Lemon Rhubarb Mascarpone Mousse Cake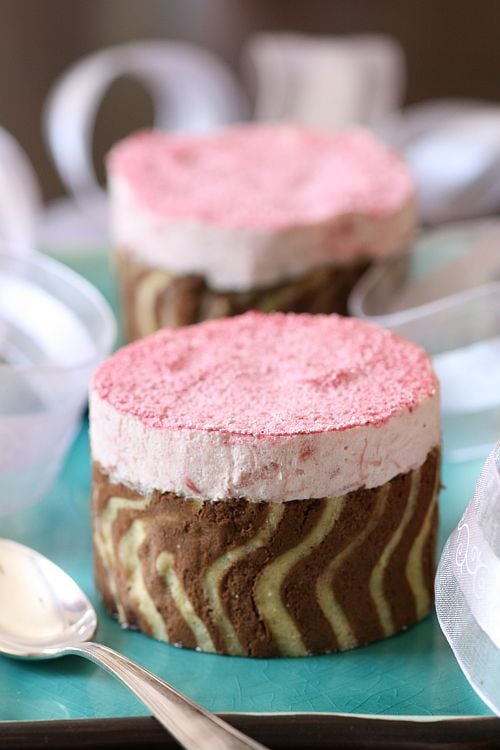 Yes, another rhubarb post…it's the season and I just can't get enough….Sorry folks! When Marcela was planning her visit, one of her wishes was to get some rhubarb and Meyer lemons so we could bake something with them. She also wanted to keep the seeds of the lemon to grow her own tree back in Argentina. We searched everywhere for both to no avail and decided to stick with our original plan to make macarons instead. She did a fabulous job with the latter and I hope that macarons have no secret for her now and I got to tell you, buttercream and dulce de leche go really really well together!!
After dropping her off at the airport, B. and I headed for the farmers' market downtown and guess what I found by the bucket….rhubarb!!! Arghhhhh…..Wish I had it growing in the backyard but one has to do with what they have, right?! I need to add that since I mentioned I had found Loquat trees everywhere downtown, one of my clients told me she had her own tree and I was most welcome to head over her house and pick what I wanted. I did this afternoon and stopped at three bags full. Do you think I have enough fruit if you add the four pounds of strawberry that Marcela and I picked at a local farm yesterday afternoon?!!! There are going to be some fruity desserts coming up!!
This is the dessert I wanted to make for her had I found rhubarb before her arrival….alas, or as B. would say "Yum, more for me", this mousse cake is going to be dessert for us tonight. So here is to you Pip, as a thank you for a wonderful time in your company and especially last night at the restaurant where I don't recall ever laughing so hard in my life…and it involved another woman kissing my husband….
For the mousse I used the same recipe I used for the Raspberry and Mascarpone Mousse Cakes, back in March. I replaced the lime with lemon and added cooked rhubarb to the mousse base. I don't really have a recipe to cook the rhubarb but I usually go for 1 cup of fruit to 1/3 cup sugar, cooked over low heat until the rhubarb softens and I still get chunks of fruit in there. The cake ring surrounding the mousse looks complicated and involved, but really it isn't. It is made with an almond cake batter very similar to ones used for jelly rolls called "ribbon sheet cake" or Joconde and a tuile cookie batter (also known as tulip paste) piped onto the baking sheet before you pour in the cake batter so while baking it leaves an imprint on your cake. If it were rocket science I would not be doing it….trust me. It is not more time consuming than baking a cake and I find the whole process tremendously more fun given the end result.
I went for stripes but you can easily make squiggles, lace patterns, dots, smileys, etc….It is best to prepare both the mousse and the cake early in the day if you plan to serve this for dinner as the cake needs to cool and the mousse needs to set, and you can keep them in the freezer for a month or so if you decide to make them way in advance. For a velvety effect on top, I mix powdered sugar and cherry pink food coloring on top and dust the cakes with it right before serving. Do not do this in advance as your powdered sugar will melt and sink in the mousse due to its moisture content.

Lemon Rhubarb Mascarpone Mousse Cake:
For the tulip paste:
4 ounces unsalted butter, softened
4 ounces powdered sugar, sifted
1/2 cup egg whites, at room temperature
4 ounces all purpose flour, sifted
1 1/2 Tb cocoa powder.
Cream the butter and powdered sugar together in a stand mixer fitted with the paddle attachment. Sift the flour and cocoa powder together and add to the butter mixture and mix until incorporated. Do not overmix. Use right away or store in the refrigerator, taking it out 30 minutes before you plan to use it.
Pour the batter into a piping bag fitted with a small plain tip. Line a baking sheet with parchment paper. Using a ruler set on top of the sheet as your guide, pipe lines with the tulip paste onto the parchment paper, or any shape you desire. You can also smooth a large amount of the paste on the paper and using a ruler set on the rim of the pan, use a decorator comb to drag on the batter to form lines. When I make somewhat straight lines, this is the method I use, and I use the pastry bag method for lace patterns and others. Set the baking sheet in the freezer until the tulip paste is firm. Keep frozen until you are ready to pour the cake batter on top.
For the ribbon sheet cake:
4 ounces finely ground almonds (I used slivered)
3 ounces powdered sugar
1 ounce all purpose flour
4 eggs
1 egg yolk
3 egg whites
1 ounce granulated sugar
1 ounce melted unsalted butter
In the bowl of a stand mixer fitted with the paddle attachment, beat the almonds, powdered sugar, flour and 2 eggs until combined. Scrape the sides and bottom of your bowl with a spatula and add the remaining 2 eggs and the yolk until well combined. Set aside.
Whip the egg whites in a separate bowl until they appear foamy, add the granulated sugar in a steady stream and whip until you get a glossy meringue. Fold the meringue mixture into the egg/flour mixture. Stir in the melted butter and fold until all the ingredients are well incorporated but without deflating your meringue base.
Remove the baking sheet with the tulip paste from the freezer and pour the cake batter on top. Bake at 450F for about 6-8 minutes or until the sponge becomes to color. Remove from the oven, let cool a few minutes and invert your cake onto a piece of parchment paper. Peel the baking paper. Let cool before using. You can keep it wrapped in the refrigerator for up to a week or in the freezer for a month. Bring it back to room temperature before you fit it in the pastry rings. Line 6-8 pastry rings (depending on their size, mine are 3 inches wide) with parchment paper, cut 1.5 inches wide strips of cake and cut them to fit around the inside of your rings. Divide the mousse inside the rings and let set.
For the mousse:
1 egg, separated
2 TB sugar
2 oz mascarpone cheese, at room temperature
75 ml. heavy cream
1 tsp. powdered gelatin (1/2 sheet) + 1 Tb water
zest and juice of one lemon
1 cup cooked rhubarb
Sprinkle the gelatin over the water, stir and let sit to bloom. In a large mixing bowl, whisk the mascarpone with the sugar, add 1 egg yolk and whisk until well incorporated. Heat the gelatin for about 10 seconds in the microwave and quickly whisk it in the mascarpone batter. Add the lemon juice and zest. Whip the egg white until stiff, fold into the mascarpone mixture. Add the cooked rhubarb. Whip the heavy cream to medium stiff peaks, and fold into the mascarpone. Divide it evenly and carefully among the pastry rings. Store in the refrigerator for 2-4 hours or overnight.
Granted it takes a tad longer than a baking brownies but it is just as fun and as good, and if you like playing with shapes, batters and let your imagination run wild, this is a good project to tackle in the kitchen. The end result is so tasty you won't be disappointed!