Lavender Madeleines

It's been a while since I have made Madeleines and while I was reading this book again I found a recipe for Earl Grey Madeleines. Great! I did not have Earl Greay at the house. Looking on the side bar titled "Playing Around", Dorie Greenspan gives variations for the recipe using rosemary-orange, cinnamon and ginger and lavender. That I had plenty of! Her instructions are to infuse the melted butter with the tea leaves or lavender buds. I decided to play around a little and actually keep some of the buds in. I was afraid it would take on a bitter aftertaste but it actually did not. Definitely a repeat!
Lavender Madeleines, adapted from Dorie Greenspan "Baking: From My Home To Yours"
Makes 12
5 Tb. Butter
1 Tb. edible lavender
¾ cup flour
½ tsp. baking powder
Pinch of salt
1/3 cup sugar
Grated zest of half a lemon
2 large eggs
2 Tb. honey
2 tsp. vanilla extract
Preheat oven at 400 degrees.
Melt the butter with the lavender and let sit for 10 minutes to infuse. Strain but keep half of the lavender in with butter, or discard the whole amount.
Combine the flour, baking powder and salt.
Working with a stand mixer, beat the eggs, sugar and lemon zest until pale and thick, about 3 minutes. Add the honey and vanilla and beat for one minute more. Switch to a rubber spatula and incorporate the dry ingredients. Fold in the butter. Refrigerate the batter at least 2 hours or up to 3 days. (helps with the bumps characteristic of the madeleines).
Butter and flour your madeleines molds and divide the batter evenly. My molds are smaller tan hers so I got 24 small cookies. Bake 12-14 minutes until they are golden brown.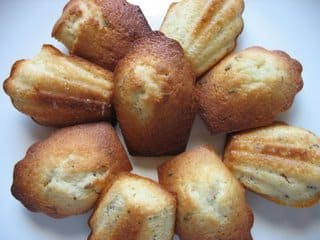 No story to go along…except they are almost gone and the neighbors did not get any…(hoping they forgot the blog address)