Katherine Hepburn Brownies- Blog Party #17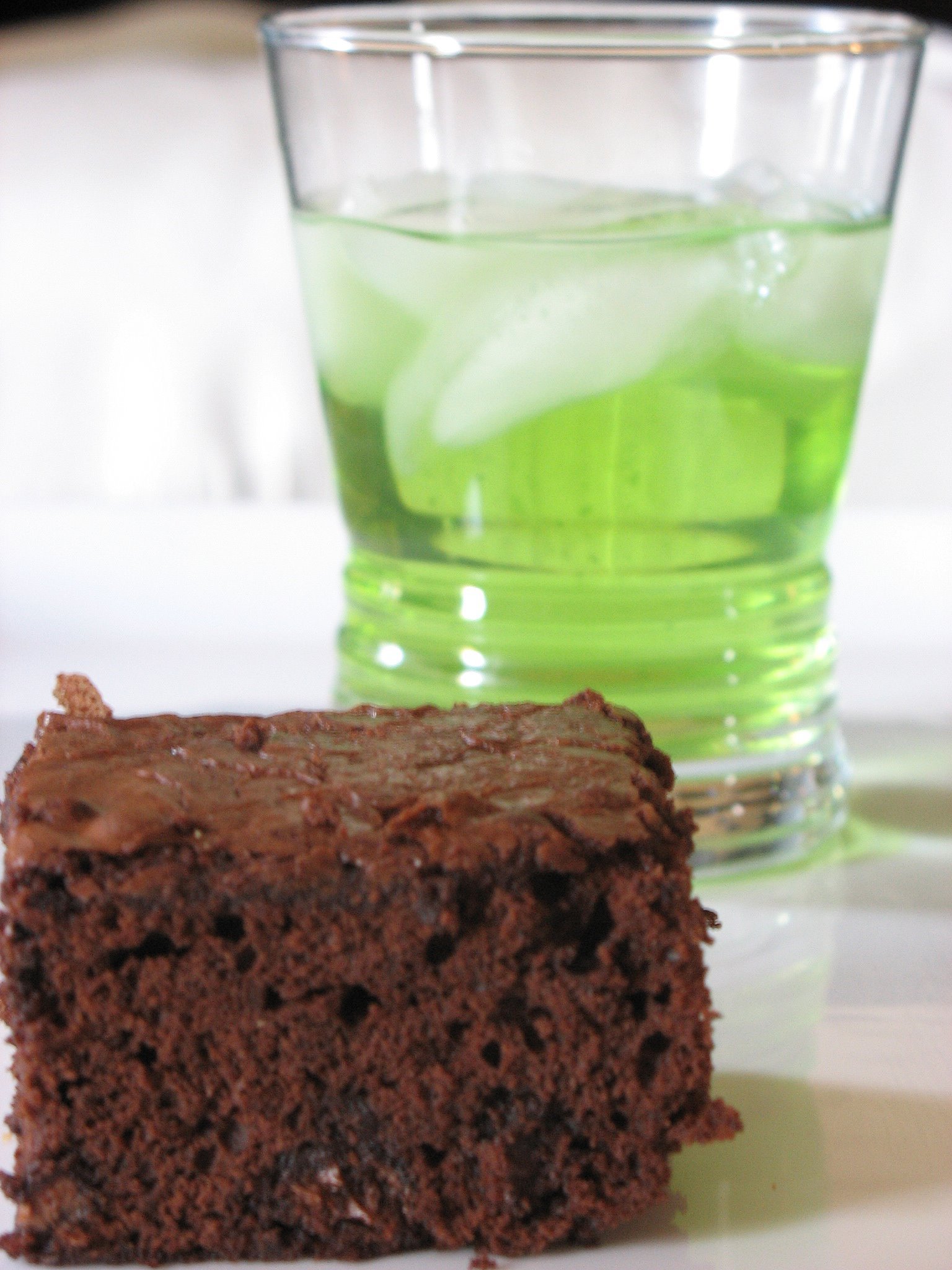 I missed the last Blog Party hosted by Stephanie but I am ready to have fun this time. We are 6 hours away from departure but I figured I could not leave without one little piece of decadence.
Because I have spent the last few days running around I decided to fall back on one of my favorite books for inspiration. When I first got Dorie Greenspan's book Baking From My Home to Yours, I bookmarked this brownie recipe right away but never got around to making it until yesterday. What a perfect fit for the party which theme was Hollywood. I was not sure what cocktail to pair it with so I went with one of my new favorites, an Apple Martini. The color always makes me giggle….!
Katherine Hepburn Brownies, adapted from Dorie Greenspan:
4 oz bittersweet chocolate
2 tsp ground coffee
1/2 cup cocoa powder
1/4 lb unsalted butter
1 c Sugar
2 eggs, lightly beaten
1/2 ts Vanilla extract
1/4 c all-purpose flour
1/2 tsp. cinnamon
1/4 ts salt
Preheat the oven to 325 F. Butter an 8-inch square baking pan.
In a heavy saucepan, melt the chocolate with the butter over low heat, stirring until completely melted. Remove from the heat and stir in the sugar, coffee, cocoa powder and cinnamon . Add the eggs and vanilla and whisk well. Stir in the flour and salt and mix well. Spoon the batter into the prepared pan and bake for 40 minutes.
Apple Martini, adapted from about.com:
2 oz gin or vodka
1 oz green-apple shnapps
Pour the ingredients into a shaker with ice cubes.
Shake well.
Strain into a chilled cocktail glass.
The brownies were really moist and flavorful and the martinis went down way to easily. We gathered outside with the neighbors and enjoyes the warmth of th evening, I have the feeling this is the last time I an standing on the porch at ten o'clock at night with a skirt and a t-shirt.
Off, to finish making sure for the tenth time that we have not forgotten anything…!I will come back as soon as we are settled and as soon as my parents understand the need to spend hours on the computer looking at other people's culinary adventures!!