Ice Cold Lemon Strawberry Fraisier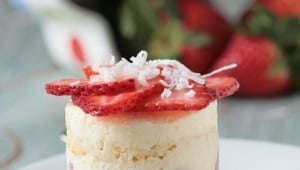 An abundance of gorgeous strawberries and extra Grand Marnier Mousseline led me to create this little thing. I called it a Fraisier because it looks like one but that's where the resemblance stops….although by taste it was just as good. Like the choux, a Fraisier is one of my favorite desserts, one I would push my mother to buy for Easter it looked so Spring-like. It usually is compose of a genoise, pastry cream, strawberries and topped with a thin layer of marzipan. Rich in composition and ingredients but light in texture like most French desserts tend to be. It seems like we have a knack to pack a million calories in a bite that seems as light as air!!
Here I was with the strawberries, the mousseline cream and no base but a serious hunkering for Meyer lemon. Lemon genoise? Lemon meringue?….hmm…decision, decision, hesitation….That was until I remembered a recipe for "The Best Damm Meyer Lemon Pound Cake" on the Saveur Magazine website. With a claim like that I had to check it out for myself!! I made the cake, patiently waited for it to cool so I could cut slices and then rounds to fit into pastry rings to build the cake, and then a very common thing happened: we started cutting into it like mad and before I knew it half of it was gone!! I managed to sneak it away from Mr.Tartelette promising an even better dessert made with it (better not mess up, right!). I have to tell you that in itself, the cake is indeed pretty damm good, and the Meyer lemon really made a difference from usual lemon pound cake but my favorite still is The Ultimate.
The weather has been really quite hot and humid lately thus I decided to go for a very cold, icy cold really, version of my beloved dessert with the ingredients I had on hand. To build the dessert I used my trusted 3 inch diameter pvc pipe rings lined with parchment paper, and all I had to do to unmold them was to slide them out and let them sit, covered, on the countertop for 20-30 minutes. It is indeed best to take them out of the freezer ahead of time so the cake has time to soften up a bit and you don't chase your dessert around trying to break into the ice. The mousseline was perfectly thawed but still icy cold and holding its own while the cake was at the right consistency for you not to break your spoon on it.

I am sending this to Meeta's Monthly Mingle, Spring Fruit Sensations, hosted this month by Abby of Eat The Right Stuff. Once you have the Meyer lemon pound cake and the Grand Marnier Mousseline then it is just a matter of assembly.
Ice Cold Lemon Strawbery Fraisier: Serves 4
8 thin slices from the Meyer Lemon Pound Cake
1/2 recipe for Grand Marnier Mousseline
1-2 cups sliced strawberries
Using the 3 inch rings or cut pipe as a guide, cut 8 rounds from the lemon cake. Line your ring with parchment paper, place them on a parchment line baking sheet, put a slice of cake in each ring at the bottom. Line the walls if the rings with the sliced strawberries. Divide the mousseline in half and divide one half evenly among the rings and tap the sheet on the countertop to make sure it settles in the rings. Top with another slice of lemon cake, pressing gently on the cream, top with the remaining cream and freeze.
To serve, take the rings out of the freezer, slide the cakes with the parchment paper out, remove the paper gently and set the cakes to thaw for 20-3o minutes. Decorate with cut strawberries (I added some coconut when B. was not looking)

I also wanted to thank the judges in the March edition of Does My Blog Look Good In This, hosted by Sabra of Cookbook Catchall for awarding this picture (just to clarify, not the one above, click on the link to fnd out) with First place. I am amazed, happy beyond belief given the gorgeous photographs that were entered in the contest. Go check out the other winners, pretty nice eh?!! Thank you, thank you….I take great pleasure shooting the desserts I feature here and I constantly learn from all the amazing talents out there 🙂
Last thing before I forget again: a lot of you email me everyday about baking and lately a lot about macarons. I am not holding back on purpose but a tutorial with tips and steps by steps will be available soon. This is one of the trickiest item to trouble shoot through a computer screen and although I have helped already a few of you out there with those and other desserts, I wanted you to know that I appreciate your patience. You guys make my day!