Cinnabons – A Tasty Knock Off – Priceless Friends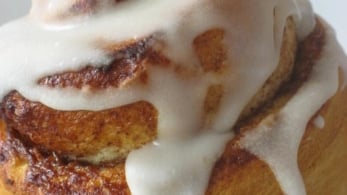 I will be the first one to say that one can never have too many cinnamon rolls! When a sweet somebody suggested after the September Daring Bakers' challenge that we make a go at a recipe for Cinnabons, guess who answered the call of more butter, yeast, dough and cream cheese…and more butter? Yes, your truly as well as Marce, Kelly, Mary, Sara, Laura Rebecca and Chris.
There were a lot of events and gathering around the house that particular weekend and I had to start my dough at the ungodly hour of 5am just to make sure I'd have a chance to get it done that day. Add to the equation a sick dog and a sick Tartelette, and you have me passing out on the couch around 9am while everybody else is gearing up and meeting on Yahoo Instant Messenger to share the fun. When I finally woke up Marce kept trying to invite me to a conference chat and I kept clicking to no avail….I was stuck on my southern side of the world….hate being left out. I IMed my tech guru, while at the same time conversing with Kelly and trying to get her set up.
Now if you know me at all, you probably figure that I can juggle 3-4 desserts going on , at once in the kitchen while entertaining the neighbor's twins. And if you know me just an ounce, you probably realise that at that point my coughing and sneezing self had 3 Yahoo windows open, emails just in case and everybody typing faster than me. I had the biggest laugh of my life when Lisa asked me to take Kelly through a Yahoo IM set up…me?!!! ahahah!!! Thank god for cutting and pasting her instructions!!
Not to lose her beautiful sweet cool, Kelly had the smart move to quit trying and set up her UStream show, which was a blast by the way. I have a laptop on the kitchen table , you know for when I see a recipe and I have to try it right then and there…. I had Kelly keeping me company while I was baking and decorating cookie trays for a party.
Now that you get a feeling for the ambiance of the day, let's talk about the real issue here: how did the Cinnabons do compared to Peter Reinhart's? Both doughs were a pleasure to work with and although Reinhart's was much softer than this one, they both had a good rise and were easy to roll out. We liked the flavor of Reinhart's buns over the Cinnabons, something to do with the lemon extract in the dough I am sure. We preferred the texture of the Cinnabons though. The dough remained very tender, a little gooey in the center which I like, a lot. And that filling…hmmm butter/cinnamon/butter/cinnamon…oh yeah and sugar with that butter!
The icing on the Cinnabons really put it over the top, but that had to be expected since I don't think anything can beat cream cheese frosting. Do you? Then stop reading because you are about to read about a sweet fattening snafu. Since my head was not totally there (cold) I think I got cross eyed for a split second while reading the instructions and instead of 1/2 a stick of butter, I used a whole one! Paula and Lisa would be so proud of me!!!
Since I realized my error before frosting the second pan, I quickly rectified my shot and made the "proper" one. Guess which rolls got devoured first? We are so butter easy !!
Which recipe will I make again? I am pretty sure it will be the Cinnabons but with a little lemon extract in the dough.

Cinnabon™ Knock-off Cinnamon Rolls
Rolls:

1 pkg. active dry yeast (1/4 oz. size or 2 1/4 tsp.)
1 c. warm milk (105º to 110º F.)
1/2 c. granulated sugar
1/3 c. margarine, melted (used butter)
1 tsp. salt
2 eggs
4 c. all-purpose flour
Filling:
1 c. packed brown sugar
2 1/2 TBS. cinnamon
1/3 c. margarine, softened (used butter)
Icing:
1/4 c. (1/2 stick) margarine, softened (used butter)
1/4 c. (2 oz.) cream cheese, softened
1 1/2 c. powdered sugar
1 TBS. whole milk
1/4 tsp. vanilla
1/8 tsp. lemon extract
For the rolls, dissolve the yeast in the warm milk in a large bowl
Mix together the sugar, butter, salt & eggs. Add flour and mix well
Knead the dough into a large ball, using your hands lightly dusted with flour. Put in a bowl, cover, and let rise in a warm place about an hour or until the dough has doubled in size.
Roll the dough out on a lightly floured surface. Roll the dough flat until it is approximately 21 inches long and 16 inches wide. It should be about ¼ inch thick.
Preheat oven to 400º F.
For the filling, combine the brown sugar and cinnamon in a bowl. Spread the softened butter evenly over the surface of the dough, and then sprinkle the cinnamon-sugar evenly over the surface.
Working carefully from the top (a 21 inch side), roll the dough down to the bottom edge.
Cut the rolled dough into 1 ¾ inch slices and place 6 at a time, evenly spaced, in a lightly greased baking pan. Let the rolls rise again until doubled in size (about 30 min.). Bake for 10 minutes, or until golden on top.
While the rolls bake, make the icing by mixing the butter and cream cheese in a large bowl with an electric mixer on high speed. Add the powdered sugar and mix on low speed until the sugar is incorporated, then add the milk and flavorings. Mix on high speed again until the icing is smooth and fluffy.
When the rolls come out of the oven, let them cool for about 10 minutes, then coat generously with the icing.