Poached Peaches & Lemon Verbena Ice Cream. A Bit Of News Too…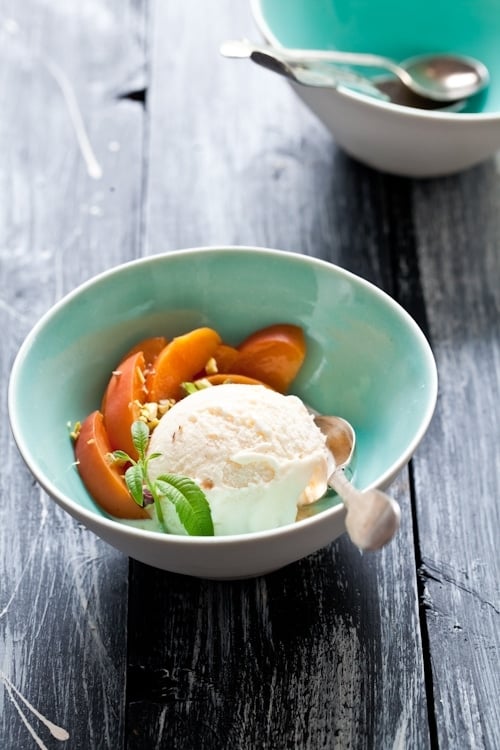 Leave it up to me to pick one hot evening to churn a fresh batch of ice cream thinking we were nicely gearing up for Summer early as usual only to get up to a little-big drop in temperatures. Intriguing. I like that last attempt of a crisp morning trying to wrap us up with a little breeze and a soft chill.

While taking the pups outside that morning, I was not thinking ice cream at all. More something like a hot cup of coffee and a warm piece of toast. But I instantly busted "this feels so nice! Like a juicy fresh peach on a warm Summer day!" I went back inside with that odd feeling that the weather had misplaced a chip somewhere. The pieces did not quite fit.

The season was going so well that in fact I had gotten the juiciest tiniest yellow cling peaches at the market a few days before. Dubious, I only got three. Once home and after the first bite, I wished I had gotten three more. As good as candy, albeit two months early in the season. Wacky. Yet good enough to make my toes curl so I wanted to do them justice and use them in a dessert somehow.
Yes. My measuring scale to things, foods, life, love, is how much something will make my toes curl. When I fall in love with people, my toes curl. When there is a dish that makes my brain circuits implode from intense pleasure, my toes curl also. For some it's just an expression. For me, it's a true manifestation that I am completely in tune with the moment, the person, the taste. I often put a piece of music on and realize 20 minutes into it that my toes are indeed curled from appreciation.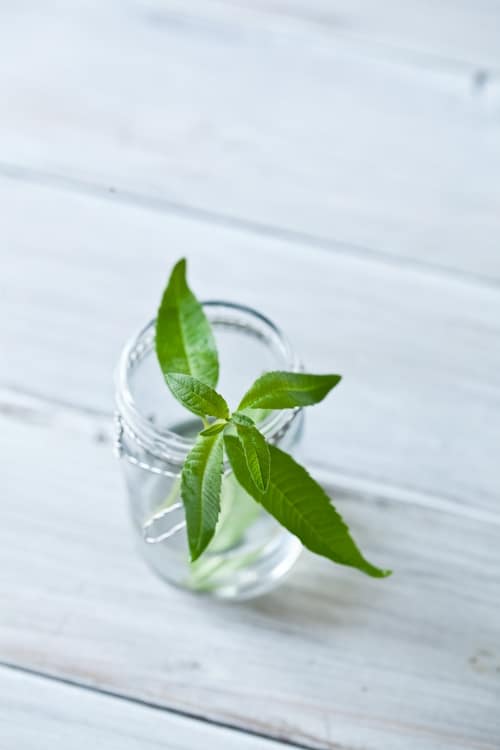 That morning, in the cheer satisfaction of the present moment, a clemency in the weather, a few minutes of calm all to myself, my mind wandering about and around ice cream and peaches, my toes started to curl. Immensely. And as I am sitting here taking a break from packing, my toes are curling once more over a bowl of Lemon Verbena Ice Cream and Poached Peaches. Fragrant, refreshing and the perfect thing to break for.
I am heading to Sante Fe, New Mexico to teach a 2-day workshop organized by Angela Richie of the world renowned Richie Camp workshops. I'm heading out a bit early to get a chance to see the town before I immersed 12 people in an intense food photography and styling adventure. When I look at the list of instructors and hear feedback from attendees, my toes curl at the honor to be part of such a group!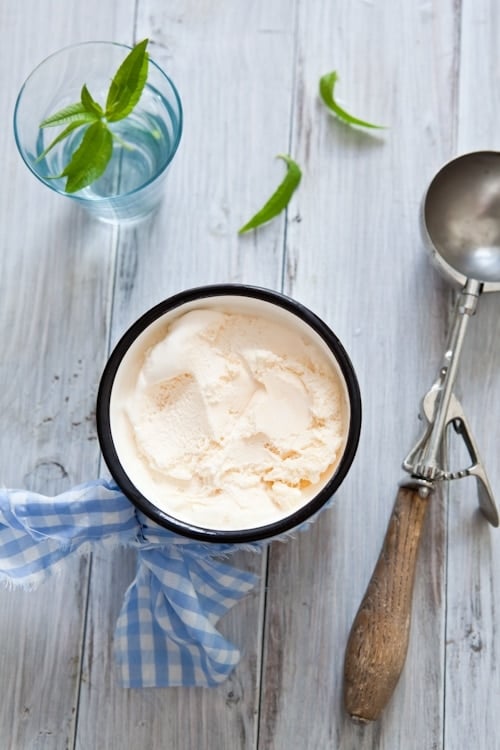 There are a couple of other things that make me enjoy a little serving of ice cream this evening. I realized I put the news on Twitter last month but never made a formal announcement here. Back in April, I got contacted by Chris from Primary Reps Photo Agency who expressed the wish to add me to his roster of photographers. My goal for 2011 was to get photography representation, a mutual partnership of work and more work and someone other than me futzing over contracts and quotes.
I liked Chris. I liked his honesty and clear approach to work. I liked him and he represents my dear friend Matt Armendariz too. My toes curled. Yes. Well, I am thrilled to announce that I am now represented by Primary Reps for anything and everything photography related and you can view my galleries here and here.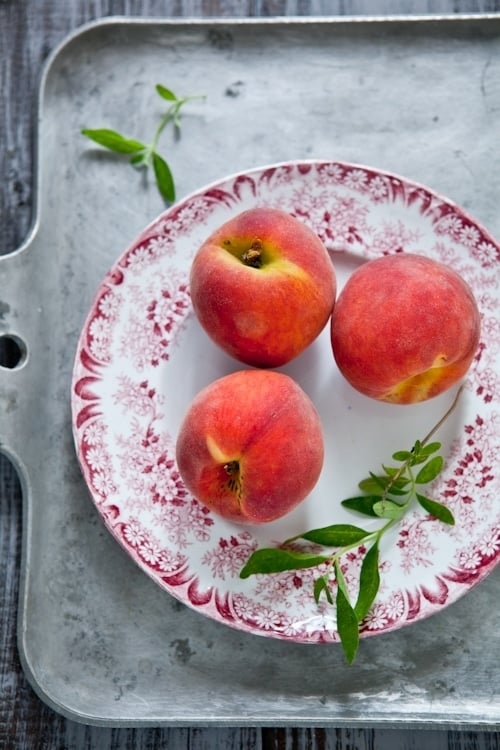 And here is announcement number 2. Things happen outside of my comprehension but I trust my soul that they happen when right. Things at work are fast and furious and I am loving every part of it. Contracts, clauses, presenting my work the best way possible while juggling everything else can get a bit crazy. When Amy Hughes, literary agent from McCormick & Williams in New York got in touch and asked if I had considered getting a book agent, I looked up to the clouds and uttered a quiet "Thank you!".
We met. We chatted. We asked questions. And my toes curled up again. Today I am psyched to announce that Amy is indeed my book agent. She is my sounding board and best advocate for current projects as well as others I have been asked to consider and work on. I am passionate about my work and when my toes kept curling more and more in the last few months, that's when I knew it was time to team with people who knew how and where to best focus my energy.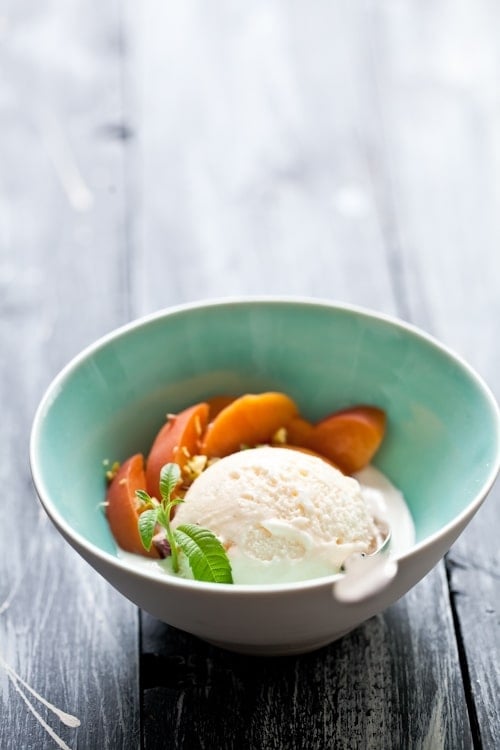 I am extremely grateful and can't wait to get to work every morning! But now that it is almost midnight and my ice cream bowl is just about empty, I must go and finish packing my gear for Sante Fe. I doubt I'll have time to post while I am there but I will try to post updates and phone pictures on Twitter (@SweetTartelette) and Facebook (page is here) and share info and tips as we workshop!
Have a wonderful rest of the week and gorgeous weekend!

Lemon Verbena Ice Cream And Poached Peaches:
Serves 8
For the lemon verbena ice cream:
4 egg yolks
1 cup (100gr) sugar
1 cup (250ml) heavy cream
1 cup (250ml) whole milk
1 small handful lemon verbena leaves.
In a large bowl, whisk the egg yolks and one cup of sugar until pale and thick. In a saucepan set over medium heat, bring the cream, milk, and lemon verbena to a simmer, without letting it come to a full boil. Slowly pour the hot cream over the egg yolks mixture while whisking to temper the egg yolks. Pour the whole mixture back into the saucepan and cook over low heat, stirring constantly, until the cream coats the back of spoon. It should register 170F on a candy thermometer. At this point you have made a custard sauce, also known as "creme anglaise". Let cool completely, and refrigerate until cold.
Once the custard is cold, strain and process according to your ice cream maker manufacturer's instructions.
For the poached peaches:
4 peaches
1 vanilla bean split in half
juice of one lemon
Prepare the peaches:
Place the peaches, vanilla bean, lemon juice and enough water to cover them in a tall saucepan and bring to a boil over medium high heat. Lower the heat and let them simmer for 15-20 minutes or until the peaches are just soft (poke with a toothpick to check).
Remove from the water using a slotted spoon and allow to cool on paper towel or baking rack.
To plate: cut each peach into thin slices and serve with a generous scoop of ice cream. Sprinkle with chopped pistachios if desired.