Ginger Cheesecakes With Yuzu Glaze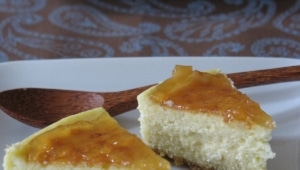 It is 1.35am here and I am wide awake….and I just half of one of these babies. For some of you it is the middle of the night, for others, mid-morning, or later somewhere somehow…so enjoy the pictures while I slowly slip into bed. Recipe later on today…
————————————————————————————————
Looking at your comments I can tell that cheesecakes stimulate your appetites. I also feel the need to explain that I bake "constantly": sometimes for us or the neighbors, and a lot for special orders. I "rescued" the cheesecake in the picture from a larger order for a friend's dinner party with her in-laws. I bake at odd times, whenever I get the chance, and I have a whole shelf of the fridge reserved for prep work full batters, baked sheet cakes, genoises, dacquoise, egg whites, creams and all the tralalas…There is no telling when Old Chef is going to call me or when stangers email me for cakes. My job at the gym is only part time so I can keep practicing my first job. This said back to the cheesecakes…
My friend C. has her in-laws visiting and they love cheesecakes and she loves mini-everything. She has a whole array of molds, pans, serving dishes ready to satisfy the most avid baker and yet, she hates anything that has to do with putting on an apron and spending time in the kitchen. She usually calls me to the rescue and I always love to oblige. A visit to her house is always a treat as she is the most perfect host, Martha has nothing on her, believe me, and I spend quite a bit of time admiring her designer's eye an skills at the same time I deliver my baked goods.
Her requests for the cheesecake flavors were minimal: light an airy, no chocolate, maybe some citrus…needs to go well with vodka cocktails an margaritas….Hmmm…I think I can manage that!
I did not have to look deep into the pantry or the fridge for what I wanted the cheesecakes to be. While visiting Lisa a couple of weeks ago, I begged her to take me to Trader Joes (why we don't have one here is beyond my understanding!) and picked up a jar of their ginger spread (like a thick ginger jam) as well as a jar of Yuzu marmelade.
After a successful first run with Yuzu curd, I knew C. would love a thin glaze of the marmelade on the cheesecakes. I made a couple of extras the day before her dinner so that we could try them out….you know…for safety purposes!!! Before I could get my spoon into one of them, she had already made her way through 3/4 of it, so I packed one up to share with B. later on. Well, later on was last night and he went to bed as soon as he got home from a music gig. I, on the other hand was all revved up from chatting with a friend….And why oh why was this cheesecake strategically positioned in the fridge that everytime I'd open the door for water, there it was, sending me subliminal messages. After a 30 minutes dance between my fork and the water, the fork won and I sat outside with half of it. Needless to say, I fell asleep like a baby!!!
Ginger Cheesecakes With Yuzu Glaze:
Makes 2 41/2 inch cheesecakes
8 oz cream cheese, at room temperature
1 Tb. butter
1/2 cup sugar
2 eggs
1 tsp. vanilla extract
2 Tb ginger spread (you can sub 1 Tb fresh grated ginger)
1/2 cup graham cracker crumbs
2 Tb melted butter
1/2 cup yuzu marmelade ( you can sub. lemon curd or orange marmelade)
Preheat oven to 350F.
In a medium side bowl, combine the graham cracker crumbs and the melted butter. Divide among 2 4 1/2 inch mini springform pans and pat with your fingers until evenly distributed. Bake 10 minutes. Lower temperature to 325.
In a large bowl, with the electric mixer or by hand , mix the cream cheese, butter and sugar. Add the eggs, one at a time until well incorporated. Add the vanilla and ginger spread. Divide betwee the springform pans. Wrap each pan with heavy duty foil. Set them in a roasting pan, fill with water and bake at 325 for about 40 minutes, or until they wiggle just a tiny bit in the middle. They will set more after an overnight trip in the fridge. Remove the foil, let cool, and refrigerate.
When ready to serve, run a hot knife on the inside of the pan and release the cheesecakes. Heat up the marmelade in the microwave until of spreadable consistency and spoon on top of each cake….you are ready to go!