Frozen Honeycomb Mango Mousse & Pistachio Dacquoise
I was trying to think of a more elusive or more creative title but I always have a difficult time doing so with desserts that incorporate several elements from others I have made or admired through pastry shops front windows (my favorite past-time), but sometimes you have to call a cat a cat. Note for the future: if you are good at it, you are hired the day I publish a book!
The dessert came about when Mary from Alpineberry announced that "Tropical" would be this month Sugar High Friday theme. Every single month, no fail, I am stuck with the same problem: my thoughts start racing and it takes me forever to make up my mind. I never thought I would say this concerning desserts, but in this case abundance is not great! Most of the produce I find here is what I would consider tropical, with plenty of papayas, limes, kiwis of different kinds, cactus pears and so forth but for me the little French alien, I still consider them exotic in some sort of way. For the event I chose to focus on mangoes, pistachios and pineapple. I knew I wanted a pistachio dacquoise at the base and a mango mousse on top, but that sounded kind of basic, so I added a layer of pinneapple preserve (store bought I confess) in between. I started to think about different design elements that would make it more interesting to the eye when I came to plate it for guests. At the restaurant I had those really nice flexible molds made specifically to give a form to a mousse or frozen custard. But I was at home, ready to get started on my dessert…and no desire to head downtown to borrow one (too hot outside!). I did not have those but I had a few sheets of large bubble wrap that would do the trick in a pinch. The honeycomb design echoes the honey in the mousse and creates little pockets very useful to prop up a few cut fresh fruit for plating and decorating.
Dacquoise (dah-kwaz) refers to both the cake it is named after composed of layers of nut meringue and buttercream, as well as one of the layers of meringue. It is used at the base of many cakes in French pastries and provides a nice change from a pastry or shortbread crust. A dacquoise is very close in texture to a macaron, with some recipes adding a touch of flour or cornstarch to the batter. I already like a dessert where the base is a big giant layer of macaron and who better fitted to provide me with a great recipe than the master of macaron himself? My sugar daddy, Pierre Herme. The mousse is one that I developped over the years from different sources making it safe to adapt with all sorts of fruits. This time I replace some of the sugar with wildflower honey and added some freshly grated ginger to perk it up a bit. The dessert looks a lot more intricate than it is. You can prepare the dacquoise a couple of days ahead, make the mousse and layer the rest of the dessert the day before you plan to serve it.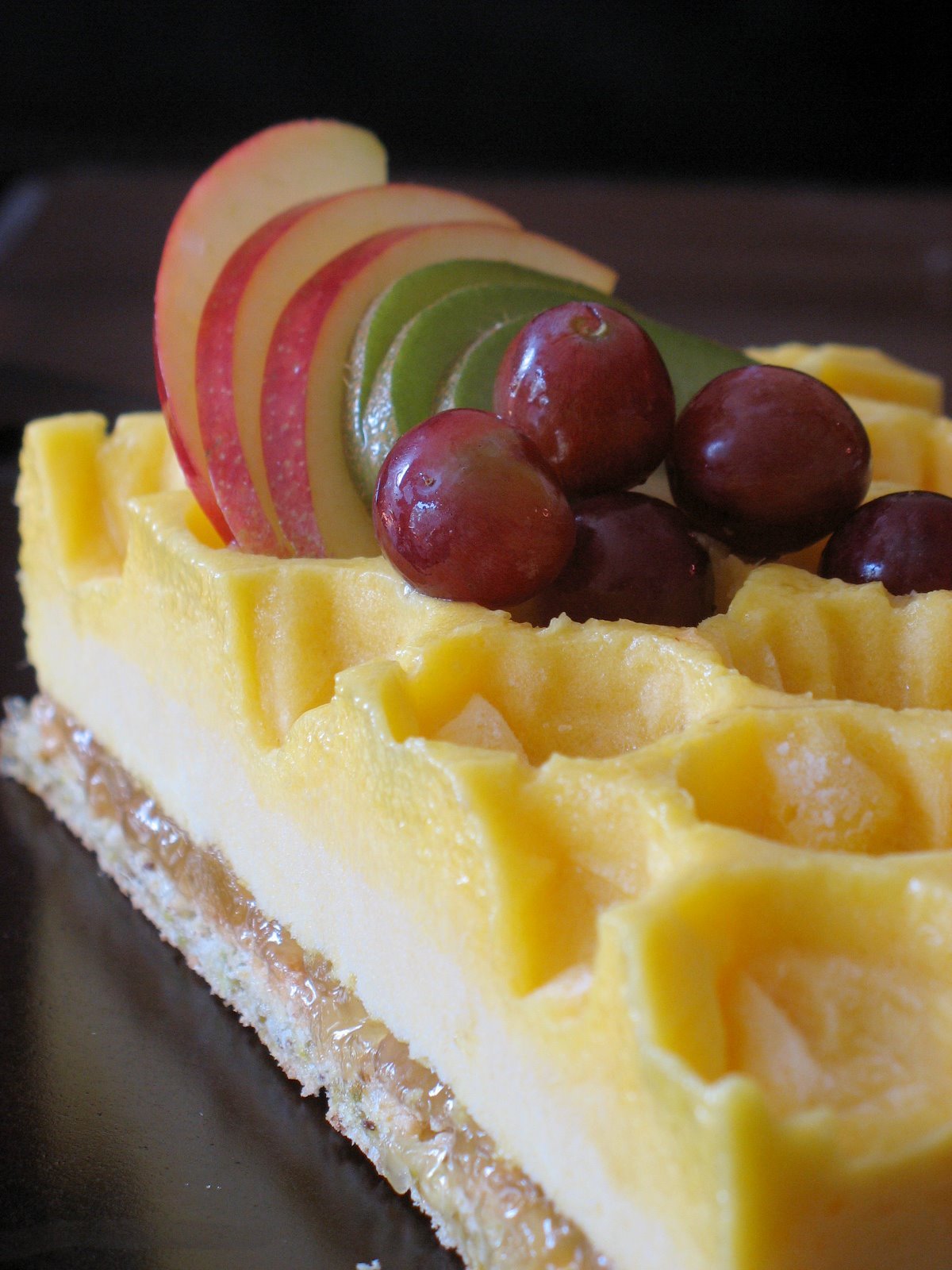 Honeycomb Mango Mousse & Pistachio Dacquoise:
Serves 8
For the dacquoise layer: (inspired from Herme's Plaisirs Sucres)
70 gr. finely ground pistachios
75 gr. powdered sugar
25 gr. granulated sugar
3 egg whites
In a large bowl, mix togther the nuts and powdered sugar. Beat the egg whites to soft peaks. Slowly incorporate the granulated sugar with the machine running, until you get nice glossy peaks. Delicately fold in the nut mixture. Spread on a parchment line 8×8 baking dish and bake at 340F for about 35 minutes.
For the mousse layer:
2 ripe mangoes, peeled, cut up and pureed
1/2 cup water
1 envelope unflavoured gelatin
1/4 cup sugar
1/4 cup honey
1/2 tb fresh grated ginger
1 cup whipping cream, whipped
Sprinkle the gelatin over the water and let soften for about 10 minutes.
In a medium saucepan, combine the mango puree, sugar, ginger and honey. Heat until the sugar is dissolved. Remove from the heat and add the gelatin. Stir to dissolve and let cool to room temp, or until it starts to thicken a bit. Fold the whipped cream into the mango. Use it in the dessert assembly before it has time to thicken so it will be easier to pour.
Dessert Assembly:
Remove the dacquoise from the baking pan. Line the same pan with heavy duty plastic wrap. Cut a sheet of bubble wrap to fit and put it on top of the plastic, bubbles side up. Pour the mango mousse and freeze until set.
Spoon 1 cup pineapple preserves (or others of your choice) on top of the mango mousse. Press the sheet of dacquoise on top with a light pressure of your fingertips so all the elements adhere together. Freeze until ready to use.
To unmold, flip the pan over and remove the plastic and bubble wrap. Decorate and serve.