Doughnuts For My Valentine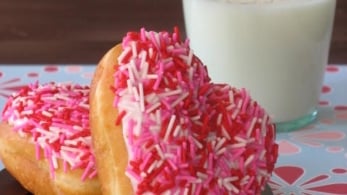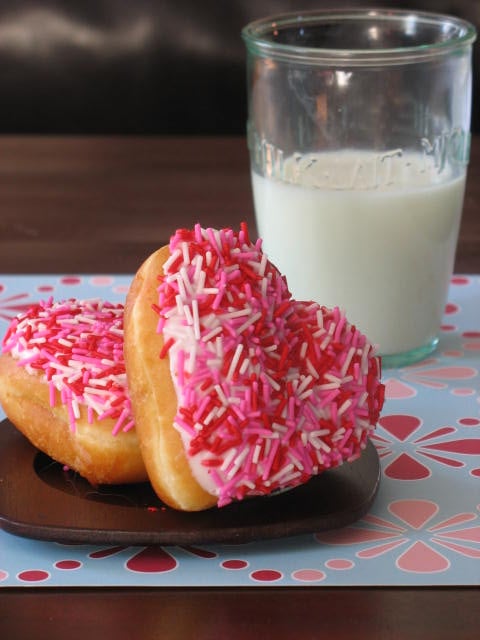 Happy Valentine's Day to all of you! Whether you have a special somebody in your life, today is the day to celebrate all lovers out there. We don't do outrageous things on that day Mr.Tartelette and I, but we do get caught up in all the cutsie cards out there and exchange a couple over the course of the day.
We live down the street from a Krispy Kreme and a Dunkin Donut (I love America!) and when we were driving home from taking mom to the airport yesterday, he turned to me and said "You know that Krispy Kreme came out with a heart donut for Thursday?" Me "Well, that's nice…" We went back to our thoughts until a couple of minutes later he added "Could you make a copycat if I get you an original to compare?" Me to answer in my best smartie pants tone "If you get an original form the shop, eat it, don't ask me to make a copycat!" Well, I did anyway, because he is a cool guy! I took out the deep fryer for that and they turned out awesome. He thought they were better than the originals as they did not have that overpowering sugar-oily coating on them.
Well, given the events of last night, I had plenty of time to make one more batch of donuts for our "Time To Make The Doughnuts" round up tomorrow. See, my mother's flights to Newark then France got cancelled due to bad weather. She got re-routed on another airline through Atlanta. She would have made her connection if the flight out of here had left on time, but they sat on the plane and she got an hour late to Atlanta and no more flight to France. So poor mom found herself stranded overnight in a hotel room by herself. I know she is fine, but she my mom, she's the bestest and the sweetest in the world….. No change of clothes or toileteries, and a diabetic on a pump. I was screaming in my head!! Her English is allright, she understands faster than she speaks and she has traveled many times but always with my dad or a group. Thankfully she has the kind of personality that makes people be nice and helpful towards her. She has a good aura…
Please, think good thoughts and send good vibes that she gets on that plane this afternoon with all her stuff. When I called my dad last night to tell him, he said "Well, that sucks but the flowers will be ok in water one more day and the bracelet I got her will be here when she get here". Isn't that sweet?!! When I spoke to her this morning, the only things she was concerned about is that we had gotten some sleep and found the Valentine card she had left for us. Mom, you are the best! I love you and I hope that you and dad get to spend some quality time together, albeit a day later.
See, Valentine's day is not only about lovers, it's about fuzzy feelings, families and just good all around feelings. No, we don't need a special day to hug somebody but it sure is great to be reminded never to take anybody ir anything for granted. We all need a little bang on the head sometimes. There are some special people I am going to think about today, especially the ones who can't give or receive that special hug and I will keep them in my thoughts and wish that they find peace of heart and mind.
Copycat Krispy Kreme Donuts:
2 pkgs. yeast
1/4 cup water (105-115 degrees)
1-1/2 cups lukewarm milk
1/2 cup sugar
1 tsp. salt
2 eggs
1/3 cup butter
5 cups all-purpose flour vegetable oil
Glaze: 1/3 cup butter
2 cups powdered sugar
1-1/2 tsp. vanilla
4–6 tbl. hot water
colored sprinkles if desired. I asked the cashier to sell me a half coffee cup full of the ones they use on their heart donuts.
Dissolve yeast in warm water in bowl of your stand mixer. Add milk, salt, eggs, butter and 2 cups flour. Beat on low for 30 seconds with the paddle attachment, scraping the bowl if needed. Beat on medium speed for 2 minutes, scraping bowl occasionally. Stir in remaining flour and mi untilsmooth until smooth. Cover and let rise until double, about an hour. Turn dough onto floured surface and roll dough 1/2-inch thick. Cut with floured doughnut cutter. Cover and let rise until double, 30-40 minutes. Heat vegetable oil in deep fryer to 350 degrees and fry until golden brown, about 1 minute on each side. Remove from the oil and drain them on paper towels for a minute. Dip the doughnuts into the glaze and set them on cooling racks over paper lined baking sheets (easier to clean up).
Glaze:
Heat butter until melted over medium low heat and remove from the stove. Stir in the powdered sugar and vanilla until smooth. Stir in the water, 1 tablespoon at a time, until desired consistency.