Dark Chocolate Brownies, Ginger Ice Cream & Salted Butter Caramel Sauce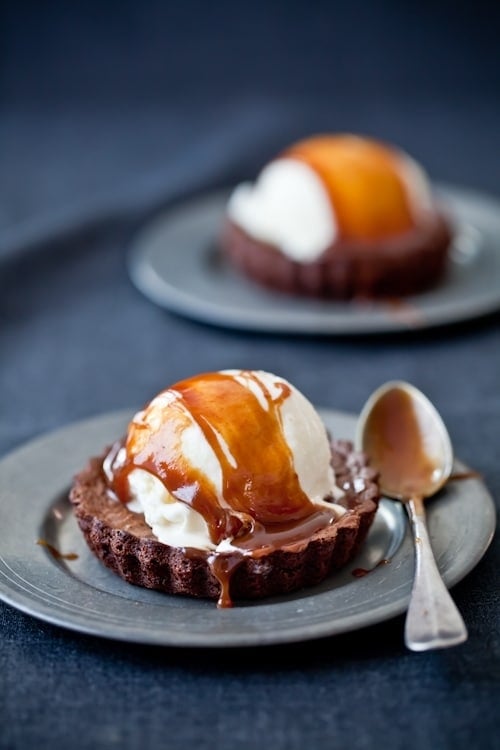 For the first few years I moved away to the US, my family would always ask me to bake brownies when I'd come back to visit. There is a little of an unspoken love affair for that simple square of dark chocolate, sometimes studded with nuts, sometimes often adorned with a scoop of ice cream. Almost always with a short cup of espresso.
I can't even recall where I found my first recipe for brownies and I admit I go through what B. dubbed my "brownie baking frenzy phases". I have been known to bake quite a few batches in the span of a few days just to keep finding the elusive "perfect" one. I know I am not the only one with that problem.

Just as with anything in life, and after hundreds of batches tested and enjoyed by our friends and neighbors, I do believe there is no perfect recipe for us – just the one we like then. Consistently different and yet every time just right
However, there is one I have favored a bit more over the years, probably because I memorized it easily and it has never failed so far to produce the same deep dark squares of chocolate brownies, smooth and rich as velvet. The thing is, I am pretty sure I have never baked this one for my family here. I'm hoping to have enough time to do so and leave a batch on the kitchen countertop before I head back home to the US.

When Caitlin and her fiancé came to visit this past month so I could shoot their engagement session, I had just worked on a savory food feature and the fridge was fairly void of anything sweet. One evening that we had planned to grill and just chill on the patio, I figured Caitlin and I could tackle a batch of brownies as we went about the kitchen getting dinner together.
Who better than an "engineer baker" to share the kitchen with? Well, all my blogging friends actually but the dogs would go insane from excitement!! As we were baking, I threw in the idea of vanilla ice cream and caramel sauce. Salted butter caramel sauce to be exact. All of sudden I had 3 pairs of eyes staring at me with such intensity that I knew I could not get around that one and take my words back. You cannot take back "salted butter caramel sauce"…Period.

Before I left for France I made B. a double batch and tucked one in the freezer labeled "in case of an emergency – ice cream to your right". After only one week away, he said that batch is about gone. His schedule has been a frenzy of work and rehearsals for Hairspray (he plays trombone) afterwards and he has had no energy to cook afterwards. We are traveling in the Alps and Provence as you read this (the magic of scheduled posting) and I sure hope I don't get a text "come home now – brownies all gone!"…ehehe!
Vanilla ice cream worked perfectly with the brownies but I got to tell you that the ginger ice cream I made a couple of days after that weekend was so much better. It highlighted the intensity of the chocolate and contrasted with the sweet/salty caramel in such a way that it took us great self control not to polish a couple of more servings.

I made the same batch of brownies, ginger ice cream and salted butter caramel sauce three times that week. And if you find yourself with extra of either or and nothing to go with it, just a spoon will do. Trust me.


Dark Chocolate Brownies, Ginger Ice Cream & Salted Butter Caramel Sauce:
For the brownies (adapted from Martha Stewart):
Notes: you can replace the gluten free flours with 3/4 cup all purpose flour if not gluten sensitive.
6 tablespoons unsalted butter, at room temperature
6 ounces semisweet chocolate
1/4 cup best-quality unsweetened Dutch-process cocoa powder
1/4 cup superfine sweet rice flour
1/4 cup cornstarch
1/4 cup millet
1/4 teaspoon baking powder
1/4 teaspoon salt
2 large eggs
1 cup sugar
2 teaspoons pure vanilla extract
1/4 cup Kahlua or strong coffee
Preheat oven to 350°F and position a rack in the center. Line an 8-inch square baking dish with parchment paper, leaving a 2-inch overhang on 2 sides. Butter the paper and set aside.
In a heatproof bowl set over a pan of simmering water, melt together the butter, chocolate, and cocoa. Remove from the heat and stir until smooth; let cool slightly.
In a medium bowl, whisk together the rice flour, cornstarch, millet, baking powder, and salt. Set aside. In the bowl of an electric mixer fitted with the whisk attachment, whip the eggs, sugar, and vanilla until pale on medium high speed, about 4 minutes. Beat in chocolate mixture. Add kahlua or coffee. Add flour mixture and beat until just combined, scraping down sides of bowl as needed.
Pour the batter into your prepared pan and bake 30 to 35 minutes until a knife inserted near the center comes out clean. Let cool 15 minutes, lift out of pan, and transfer to a wire rack. Let cool completely. (check at 15-20 minutes if using smaller molds). Cut into 8 rectangles. Brownies can be stored in an airtight container at room temperature up to 3 days.
For the ginger ice cream:
2 cups (500ml) heavy cream
1 cup (250ml) whole milk
1 cup (200gr) granulated sugar
2 tablespoons freshly and very finely grated ginger
In a large saucepan, stir together the cream, milk, sugar and ginger. Bring the mixture to a simmer over medium low heat, stirring occasionally to dissolve the sugar. Remove from the heat and let steep as it cools to room temperature. Refrigerate, preferably overnight. Strain if desired.
Process the mixture into your ice cream maker according to the manufacturer's intructions.
For the salted butter caramel sauce:
1 1/4 cup (250 gr) granulated sugar
80 ml water
1 stick (115gr) salted butter at room temperature, cut into small pieces
150 ml heavy whipping cream
In a heavy saucepan set over low heat, combine the sugar and water. Cook just until the sugar is dissolved. Add the butter. Let it come to a boil and cook until it reaches a golden caramel color. Remove from the heat and add the cream ( it will splatter and get crazy). Whisk to combine and put back on the stove. Let it come to a boil again over low heat and cook 25-35 minutes until you reach a creamy consistency. Pour into a jar and try to refrain yourself from drinking it!