Daring Bakers' Nut and Chocolate Gateau
First I would like to start this post by dedicating it to Sher from What Did You Eat? and fellow Daring Baker who past away last week. This past Sunday, a lot of bloggers honored her memory by cooking something from her site. We were in celebratory birthday mode on Sunday for my husband so I never got around to it. I did look through her desserts archives and noticed that a lot of them were previous Daring Bakers' challenges…so here is to you Sher, because I know we almost did have the same thought that a chocolate bath can't be such a bad thing after all! You are missed and loved all over the world. It is definitely strange without you around today, "reveal day", but I'll just come and say hey anyway.
Our host this month was wild red headed Chris from Mele Cotte who chose a Filbert Gateau with Praline Buttercream from "Great Cakes" by Carol Walter. I had the pleasure of meeting Chris in the flesh this month after many months of chatting over the phone, so you could say we are "friends". That did not stop me from telling her last night that I approached this challenge not as enthusiastically as I usually do. It's been around 100F (no kidding) and over almost everyday here, and very humid with thunderstorms almost every afternoons so making a cake while in the middle of another baking project did not make me jump up and down. Filberts (hazelnuts) are quite pricey here and the baking budget is pretty much well spent already. In July, I crave ice creams and fruits and I would probably not tackle a multi part "gateau' unless asked to. Oh wait! I was asked to, by Chris and B. needed a proper birthday cake too! The fact that Chris came to visit with a tote full of nuts (yeehaw) and other goodies also gave me another reason to roll up my sleeve and get down and dirty with this cake.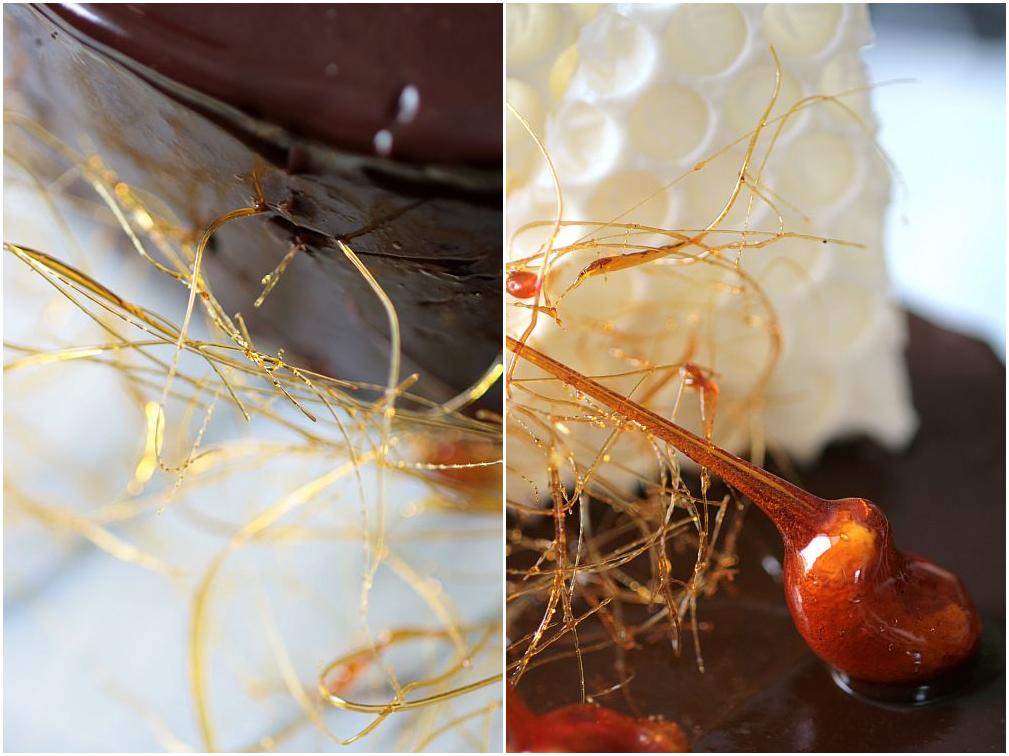 I am glad I did. The genoise part was light and flavorful, the praline buttercream perfectly balanced in sweetness and nuts and the chocolate ganache rich and delicious. I chose to go with cashews instead of hazelnuts in the cake, (although I prefer hazelnuts in all nutty things) did a cashew praline for the buttercream. One requisite was to use a layer of apricot glaze underneath the chocolate ganache but I am a very peculiar bird who does not like fruit messing with my chocolate (no dipped candied orange segments for me or chocolate-raspberry anything…can't stand it, there I said it), so I did a salted butter caramel sauce instead. I was going to use mango jam I had just made but change my mind at the last minute.
Since I was essentially making it for B's birthday and it was a small gathering, I baked and filled a 6 inch round cake and I still have a 8 inch cashew gateau ready to be used in the freezer (ah the possibilities!). I am glad Chris gave us many options to play around with because I used to the max to make a cake that everyone at the dinner table would enjoy. I left the liqueur out of the buttercream and used half a vanilla bean instead of extract. The soaking syrup for the cake was made with rum (per the recipe) with the addition of lime zest and lime juice. The chocolate glaze required corn syrup and I substituted honey instead to give a little flavor while I removed the alcohol part of it.
We did have to keep the cake round but decorations were left up to us as long as some of the buttercream made it "on" the cake. I almost read through that line without registering. As I was putting the decorations up on the cake, I stopped, "what was it again about the buttercream?" Gah…got to find its way on top somehow….Oh good, I just needed some "glue" to anchor the shards white chocolate bubble wrap! I dipped some cashews in caramel (dry sugar method) and played around with caramel strands too. I think everything "required" ended up in the cake, albeit modified since we could play around. Well, maybe not, I did skip the "clarified butter" and used just plain melted butter without an issue in my cake rising or changing in texture. Oh, oh…almost forgot, since we had the option of using of a layer of whipped cream with the buttercream, I prefered to opt out. There was just something rubbing me funny with whipped cream on buttercream on cake. I "love" buttercream you see so masking it with whipped cream would have been a shame in my opinion, especially with a praline buttercream.
This cake was like a little Christmas in July and I am glad there were outside forces helping me wrap my mind and time around making it. That's what I like about being a Daring Baker, that "may the making force be with you" attitude that make us dive in into big pools of butter, flour, sugar and/or chocolate at any given month! Thank you Chris for choosing a tasty cake and thank you Ivonne and Lisa for all the tremendous work done to keep it organised and civilised. Bake on!
With the heat and humidity the caramel strands lasted about 2 minutes. See…there is buttercream sneaking its way on the gateau!
Cashew Gateau with Praline Buttercream, adapted from Great Cakes by Carol Walter
Cashew Genoise
1 ½ cups cashew, toasted/skinned
2/3 cup cake flour, unsifted
2 Tbsp. cornstarch
7 large egg yolks
1 cup sugar, divided ¼ & ¾ cups
1 tsp. vanilla extract
½ tsp. grated lemon rind
5 lg. egg whites
¼ cup melted butter, cooled
Position rack in the lower 3rd of the oven and preheat to 350 degrees. Grease and flour a 10" X 2" inch round cake pan. Using a food processor, process nuts, cake flour, and cornstarch for about 30 seconds. Then, pulse the mixture about 10 times to get a fine, powdery mixture. While you want to make sure there aren't any large pieces, don't over-process. Set aside. Put the yolks in the bowl of an electric mixer, with the paddle attachment, and beat until thick and light in color, about 3-4 minutes on med-high speed. Slowly, add ¾ cup of sugar. It is best to do so by adding a tablespoon at a time, taking about 3 minutes for this step. When finished, the mixture should be ribbony. Blend in the vanilla and grated lemon rind. Remove and set aside.
Place egg whites in a large, clean bowl of the electric mixer with the whisk attachment and beat on medium speed, until soft peaks. Increase to med-high speed and slowly add the remaining ¼ cup of sugar, over 15-20 seconds or so. Continue to beat for another ½ minute. Fold the yolk mixture to the whites. Pour the warm butter in a liquid measure cup (or a spouted container). Put the nut meal in a mesh strainer (or use your hand – working quickly) and sprinkle it in about 2 tablespoons at a time – folding it carefully. Be sure to exclude any large chunks/pieces of nuts. Again, work quickly and carefully as to not deflate the mixture. When all but about 2 Tbsp. of nut meal remain, quickly and steadily pour the warm butter over the batter. Then, with the remaining nut meal, fold the batter to incorporate. With a rubber spatula, transfer the batter into the prepared pan, smoothing the surface with the spatula or back of a spoon.
Tap the pan on the counter to remove air bubbles and bake in the preheated oven for 30-35 minutes. You'll know the cake is done when it is springy to the touch and it separates itself from the side of the pan. Remove from oven and allow to stand for 5 minutes. Invert onto a cake rack sprayed with nonstick coating, removing the pan. Cool the cake completely.*If not using the cake right away, wrap thoroughly in plastic wrap, then in a plastic bag, then in the refrigerator for up to 3 days. If freezing, wrap in foil, then the bag and use within 2-3 months.
Sugar Syrup
1 cup water
¼ cup sugar
2 Tbsp. dark rum
zest and juice of one lime
In a small, yet heavy saucepan, bring the water and sugar to a boil and simmer for 5 minutes. Remove from heat, add the liqueur,lime zest and juice. Cool slightly before using on the cake.
Praline Buttercream
1 recipe Swiss Buttercream
1/3 cup praline paste
Blend ½ cup buttercream into the paste, then add to the remaining buttercream. Whip briefly on med-low speed to combine.
Swiss Buttercream
4 lg. egg whites
¾ cup sugar
1 ½ cups (3 sticks) unsalted butter, slightly firm
1/2 vanilla bean, cut open and grated
Place the egg whites in a large bowl of a electric mixer and beat with the whisk attachment until the whites are foamy and they begin to thicken (just before the soft peak stage). Set the bowl over a saucepan filled with about 2 inches of simmering water, making sure the bowl is not touching the water. Then, whisk in the sugar by adding 1-2 tablespoon of sugar at a time over a minutes time. Continue beating 2-3 minutes or until the whites are warm (about 120 degrees) and the sugar is dissolved. The mixture should look thick and like whipped marshmallows. Remove from pan and with the whisk attachment, beat the egg whites and sugar on med-high until its a thick, cool meringue – about 5-7 minutes. Set aside. Place the butter in a separate clean mixing bowl and, using the paddle attachment, cream the butter at medium speed for 40-60 seconds, or until smooth and creamy. Keep the butter around 65F. On med-low speed, blend the meringue into the butter, about 1-2 Tbsp. at a time, over 1 minute. Add the vanilla bean seeds and mix for 30-45 seconds longer, until thick and creamy.Refrigerate 10-15 minutes before using.
Praline Paste
1 cup (4 ½ oz.) cashews, toasted/skinless
2/3 cup sugar
Line a jelly roll pan with parchment and lightly butter. Put the sugar in a heavy 10-inch skillet. Heat on low flame for about 10-20 min until the sugar melts around the edges. Do not stir the sugar. Swirl the pan if necessary to prevent the melted sugar from burning. Brush the sides of the pan with water to remove sugar crystals. If the sugar in the center does not melt, stir briefly. When the sugar is completely melted and caramel in color, remove from heat. Stir in the nuts with a wooden spoon and separate the clusters. Return to low heat and stir to coat the nuts on all sides. Cook until the mixture starts to bubble. Then onto the parchment lined sheet and spread as evenly as possible. As it cools, it will harden into brittle. Break the candied nuts into pieces and place them in the food processor. Pulse into a medium-fine crunch or process until the brittle turns into a powder. To make paste, process for several minutes. Store in an airtight container and store in a cook dry place. Do not refrigerate.
Salted Butter Caramel Sauce
See here (I used about 2/3 of a cup)
Ganache Glaze
6 oz. (good) semisweet or bittersweet chocolate
6 oz. (¾ cup) heavy cream
1 tbsp honey
¾ tsp. vanilla
½ – 1 tsp. hot water, if needed
Break the chocolate into 1-inch pieces and place in the basket of a food processor and pulse until finely chopped. Transfer into a medium sized bowl and set aside. Heat the cream and honey in a saucepan, on low, until it reached a gentle boil. Once to the gently boil, immediately and carefully pour over the chocolate. Leave it alone for one minute, then slowly stir and mix the chocolate and cream together until the chocolate is melted and incorporated into the cream. Add the vanilla. If the surface seems oily, add ½ – 1 tsp hot water. The glaze will thicken, but should still be pourable. If it doesn't thicken, refrigerate for about 5 minutes, but make sure it doesn't get too cold!
Assembling Cake
Cut a cardboard disk slightly smaller than the cake. Divide the cake into 3 layers and place the first layer top-side down on the disk. Using a pastry brush, moisten the layer with 3-4 Tbsp. of warm sugar syrup. Measure out 1 cup of praline buttercream and set aside.
Spread the bottom layer with a ¼-inch thickness of the remaining buttercream. Place the middle layer over the first, brush with sugar syrup, spreading with buttercream. Moisten the cut side of the third layer with additional sugar syrup and place cut side down on the cake. Gently, press the sides of the cake to align the layers. Refrigerate to chill for at least 30 minutes. Brush the top and sides of the cake with cooled caramel sauce, sealing the cut areas completely. Chill while you prepare the ganache.Place a rack over a large shallow pan to catch the ganache drippings. Remove the gateau from the refrigerator and put it the rack. With a metal spatula in hand, and holding the saucepan about 10 inches above the cake, pour the ganache onto the cake's center. Move the spatula over the top of the ganache about 4 times to get a smooth and mirror-like appearance. The ganache should cover the top and run down the sides of the cake. When the ganache has been poured and is coating the cake, lift one side of the rack and bang it once on the counter to help spread the ganache evenly and break any air bubbles. (Work fast before setting starts.) Patch any bare spots on the sides with a smaller spatula, but do not touch the top after the "bang". Let the cake stand at least 15 minutes to set after glazing.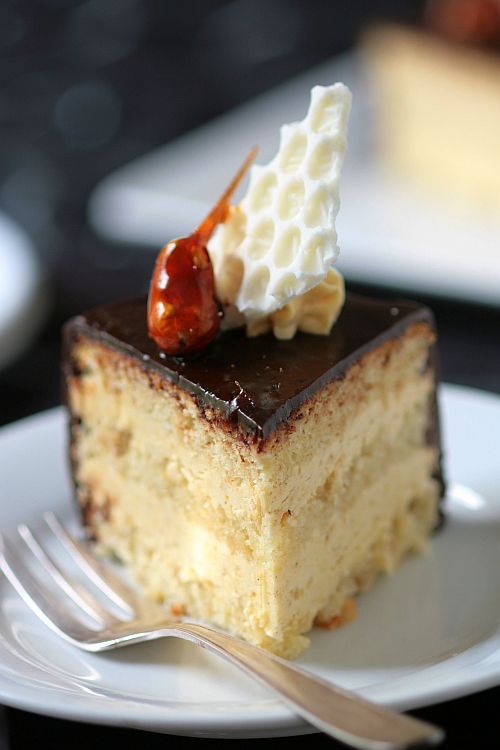 Hellooooo there little slice 🙂