Chocolate Mocha Cake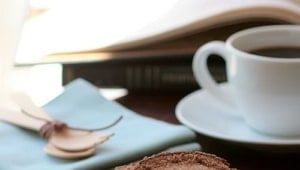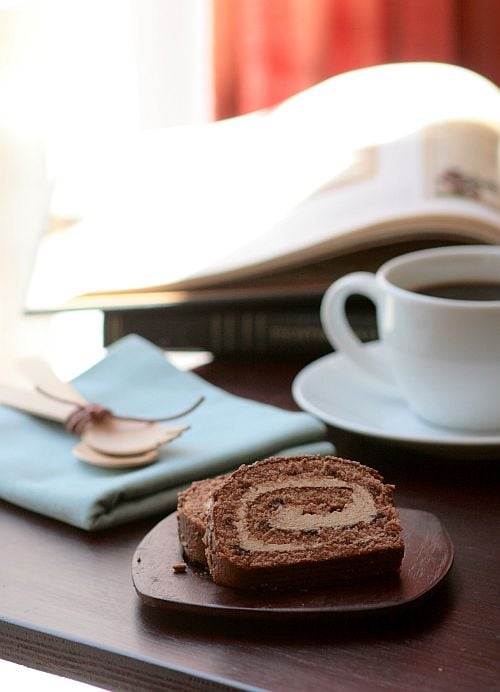 Because we both work odd hours and often during the weekend, some Mondays offer the luxury of a quieter day. A day I like to spend outside or in my favorite room in the house, the guest bedroom. When we built the house, we designed the entire upper floor ourselves and B. did an amazing job at it, it really feels like a separate apartment complete with a reading/library space, office and large bathroom. We like it so much that we sometimes sleep upstairs and it does feel like a mini break. I set up a little photo studio up there and with views of the trees and the water ahead, it s very soothing for the soul and the spirit. Last Monday, we decided to shut away from the world for a little while and recharge our human batteries by taking a nap upstairs. He woke up before I did and when I opened my eyes, he was sitting at the desk, reading old books, savouring the warmth of the three o'clock sun entering the room. I went downstairs, made us a pot of coffee (we both at gigs that night) and cut a few slices of the Chocolate Mocha Cake I had made on Sunday night. I set both in front of him, sat on the bed with my book and we both smiled.
We had managed to shut the world away for a few hours and take a mini vacation, complete with reading, cake and coffee. Moments like these are truly a blessing, don't you think? We are in full speed again as the week goes on and weekend draws near but all week long I knew we both thought about those couple hours stolen away from the hustle and bustle whenever we felt a moment of stress and anxiety. Spring in the South is truly a moment to be savoured and taken advantage of because it won't be long before you feel the wrath of heat and humidity that makes you feel all sticky and slow all day long. I know, I know, with the bounty of fresh strawberries, watermelons and other produce out there right now, I could have gone a lighter route, but there is nothing like chocolate cake to enhance a feeling of comfort and well being.
The making of the cake started kind of backward, with the buttercream actually. In one of our many French tutoring Sunday mornings, Veronica and I were discussing the many different kinds and virtues of buttercream (I told her my theory that Ina Garten's perfect camera glow comes from buttercream). I told her I was addicted to Rose Levy Beranbaum's Mousseline Buttercream and she told me she was addicted to her egg yolk buttercream. As often, our phone conversation ended with an email swap of recipes, and I filed the buttercream recipe away…until Sunday night. I made it without a precise dessert in mind, thinking I would find something during the week to use it with, and I realised after tasting it that it'd better be sooner than later or there would not be a whole lot left given the way we were digging our spoons in it! I agree with Veronica that the addition of a good dose of vanilla bean paste really makes it taste like soft vanilla ice cream.
So I had the buttercream, I needed cake right? It was now, Sunday night past 11pm and B. had already retreated to the bedroom, so no option to use a mixer at that point. I fixed my easiest one bowl, no mixer cake recipe and proceeded to make a Swiss roll type cake. Once baked and cooled, I filled it with the buttercream flavored with coffee, covered it with a milk chocolate glaze and showered it with chocolate sprinkles. After a night's rest in the fridge, the cake was ready for our little break at home Monday afternoon. The buttercream is not cloyingly sweet and the cake batter makes a very light spongy cake, perfect for a snack or to feel somewhat virtuous about a little coffee break!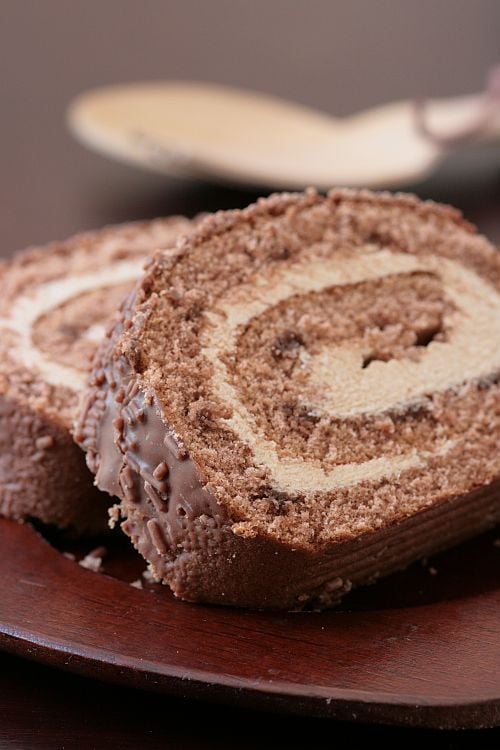 Chocolate Mocha Cake:
Serves 8-10 (Makes 2 medium or one long)
Printable Recipe
For the cake:
1 stick butter
2 tsp instant coffee
3/4 cup water
100 gr. chocolate
1 cup sugar
1 egg
1 1/4 cup all purpose flour
1 tsp baking powder
2 Tb cocoa powder
In a large saucepan set over low heat, stir together the butter, instant coffee, water, chocolate and sugar until smooth. Remove from the heat and let cool 10 minutes.
Whisk in the egg, flour, baking powder and cocoa powder until incorporated.
Line a baking sheet with parchment paper, lightly coat with cooking spray. Pour the chocolate cake batter in the baking sheet and bake for 15-20 minutes at 375F. Do not overbake or it will crack when you roll it. Check after 12-15 minutes, if it springs back when you touch it, it's done.
Remove from the heat, cover with a towel and let cool a few minutes.
Cover with a sheet of parchment paper and unmold on the kitchen counter. Peel the bottom parchment layer that is now your top, roll the cake without filling with the parchment paper from the long side to give it some form and elasticity for when you fill it with the buttercream. Let cool completely.
Mocha Buttercream:
6 large egg yolks
1 cup sugar
1/2 cup water
4 sticks of butter (don't roll your eyes, you won't feel it:))
Butter should be soft but nor mushy (65F)
1 Tb vanilla bean paste
2 Tb instant coffee dissolved in 1 Tb hot water
In a stand mixer or with a hand held one, whip the egg yolks for a minute.
Boil water and sugar until the temperature reaches 238F on a candy thermometer.
Slowly pour the hot sugar syrup over the egg yolks on a steady stream, continue beating the yolks until pale in color and cooled. Beat in the softened butter until the buttercream is smooth a
and together. Add the vanilla bean paste and the coffee, beat a few extra seconds until incorporated.
For the ganache:
300 gr milk chocolate
3/4 cup heavy cream
Bring the cream to a boil in a heavy saucepan. Pour over the chocolate. Let stand a couple of minutes and then stir carefully until it is incorporated and smooth.
To assemble:
Unroll the cake from the parchment paper, fill with the buttercream (you won't use it all). Reroll the cake, cut it in half (so it does not seem like a Yule log, but more like a Swiss roll). Set each half on a wire rack set over a piece of parchment paper. Cover with the ganache and douse with chocolate sprinkles. Refrigerate to set.