Blueberry Swirl Vanilla Ice Cream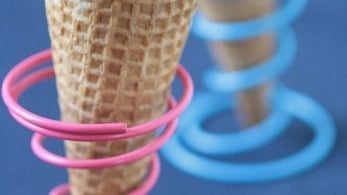 Usually, when I get up first in the morning, I turn the coffee machine on, put a couple of pieces of bread in the toaster and hop right back into bed. Takes us an extra 10-15 minutes before we are fully awake during which we might tell a joke, talk about our schedules, etc….normal. Except the other day… B. opened up one eye and sleepily said "what the heck is that noise? What is wrong with this coffee maker?". I had to fess up "That's not the coffee, that's the ice cream maker!". He had this look, a perfect mix of fear that I had blown a fuse this early in the morning and of giddy happiness that he might have ice cream for breakfast. "At 6 o'clock in the morning? What got into you?!!"
"Nothing! That's work!". He straighten out on the bed and gave me a huge smile "Oh! Then I love it when you go to work!"… Add the dog to the mix who does not miss an opportunity to lick whatever edible falls on his snout and you have a pretty good morning. Don't be fooled though, I usually hit the snooze button a couple of times, ok…maybe three. The day before, I had started to work on the ice creams recipes that were starting to create a big mess in my head when I decided to take a break. That break turned out in yet another custard ready to be churned but one I know by heart from the restaurant, vanilla bean ice cream. Plain, simple, so satisfying… so yes, I'll take that as a break.
I wanted to give the ice cream maker the chance to stretch out its limb too that morning by starting with the vanilla but when I reached for another vanilla bean in the freezer the night before, I bumped into a jar of cooked blueberries. I have this habit of cooking or roasting fruit that is getting over ripe and freezing it so I can throw it into ice cream or cheesecake when I need to. And this is how my simple vanilla ice cream became Blueberry Swirl Ice Cream.
I prepared the vanilla bean custard the evening before, and let the blueberries thaw at the same time. In the morning, I let the custard churn for about 20 minutes, (soft serve consistency), poured the blueberries in and let it swirl for a couple of times before pouring the ice cream into a container and freezing. The vanilla base was smooth and soft mixed with the tartness and natural sweetness of the blueberry juice and fruit.
I admit, I love my ice cream maker…but it can take some space in my small freezer and some of you have complained they did not have one so they could not try ice cream recipes….Let's stop with the nonsense right now…I want you to have ice cream!! If you want ice cream, you will have ice cream! A stand mixer, handheld electric beaters or an immersion are ok substitute. When your custard is cold, pour it into a freezer safe container and freeze it for about one hour, take it out and give it a good whip with the Kitchen Aid with the paddle attachment, your hand mixer with the paddle beaters (not the balloon whisks ones), or your immersion blander. Put the ice cream back into the container and back in the freezer and repeat two more time (freeze one hour, whip, freeze,…). It won't be as smooth as professionally churned ice cream but it is a great substitute. See…..you can do it!

Blueberry Swirl Vanilla Ice Cream:
4 egg yolks
1 cup heavy cream
1 cup whole milk
1/2 cup sugar
1 vanilla bean or 1 Tb vanilla paste
1 cup blueberries (fresh or frozen)
1/4 cup sugar
In a large bowl, whisk the egg yolks and sugar until pale and thick. Run a knife through the center of the vanilla bean, not cutting all the way through, split it open and with the tip of a pairing knife, scrape the seeds. Place them in a saucepan over medium heat, add the milk and cream to boiling point but do not let it boil. Slowly pour the hot cream onto the egg yolks mixture and stir to combine (tempering). Pour the whole mixture back into the saucepan and cook over low heat, stirring constantly, until the cream coats the back of spoon. At this point you have a thick custard sauce. Remove from the heat and let cool completely, refrigerate until cold, or overnight.
In the meantime prepare the blueberries: in a small saucepan, combine the berries and the sugar and cook over medium low heat until the berries start to pop and release their natural juices. Let cool completely.
Process the custard according to your ice cream maker manufacturer's instructions and towards the last couple of minutes of churning time pour in the cooled blueberries and give it a couple of swirls. Pour the soft ice cream into a freezer safe container until it reaches your preferred consistency.
If you do not have an ice cream machine: take care of the vanilla ice cream first, during your last whipping, add the blueberries the same way and freeze.