BlogHer Food – Weekend In San Francisco
Did not mean to be silent since I got back from San Francisco but I barely had a moment to kiss Bill "hello" (literally) that work started back again full swing. It's a good thing really since the utilities company already told me macarons were not a viable source of payment. Idiots. Drats.
It is taking me longer than expected to sort through all the pictures from those five days in San Francisco. A part of me has a hard time selecting among all the ones that could make you cry or laugh, and a part of me just revels in the emotions that each pictures of this trip makes me feel.Good times. Lots of laughs. Tons of people.
But first, I must announce the winner of The Hip Hostess apron. I was supposed to ask Bill over the phone to pick a number but one cocktail party and one strong cocktail later, I forgot to and turned to Lara standing next to me to pick one. Congratulations Megan from Life As A Dill! Email Debbie at info[@]thehiphostess [dot]com to claim your prize.
Now let's start this BlogHer thing…
Jen at Akiko's


I met Jen right at the airport since our flights were getting in close together and it was like picking up where we had left off the night before. We had the same dynamic that makes us talk throughout the day via emails, twitter, direct messages and sometimes all of these at once.
Unagi sushi, raw shrimp, fried shrimp heads.


After checking into the hotel, we headed to Akiko for lunch following Anita's recommendation. We were not disappointed. Loved it all but raw shrimp and me won't be friends for a while.
Miette's macarons at the Ferry Building.


Not sure how it became my "mission" but when we started talking about things to see in such a short period of time, I drew a blank on the museums and exhibitions and my brain tuned in patisseries and bakeries. Go figure. We headed out to the ferry building and found Miette's (or a portion of their place given the market layout) right off the bat. Cute and whimsical little place!
Whimsical Musings at Miette's.


Got a couple of macs and headed off to the 39th floor of the Marriott. Check Jen's post for pictures of our blogger meet up. I think I was feeling my "2 hours of sleep in 36 hours" moment and just starred at the gorgeous views instead of clicking away.
Finally got to meet my long time crush Ashley from Not Without Salt (the girl seriously looks like a porcelain doll), crazyAlice from Savory Sweet Life and the wonderful Susan from Sticky, Gooey, Creamy, Chewy. We were later joined by Anita from Dessert First and Lisa from Lisa Is Bossy (and she is…in a very funny way). Jumped from joy to see Todd and Diane again since I could literally squeeze these two forever.
We headed off to dinner at Anchor and Hope and hooked up with Chuck from Sunday Nite Dinner and Food Gawker and his lady, Michelle from Tuesday Night Smackdown, Karen from Off The Meat Hook. Everything was delicious and prepared just right. Loved it all but sea urchin and I won't be friends for a while. I promptly passed out once my head hit that fluffy pillow at the hotel, which was just fine since we had to gain strength for the next day's activity.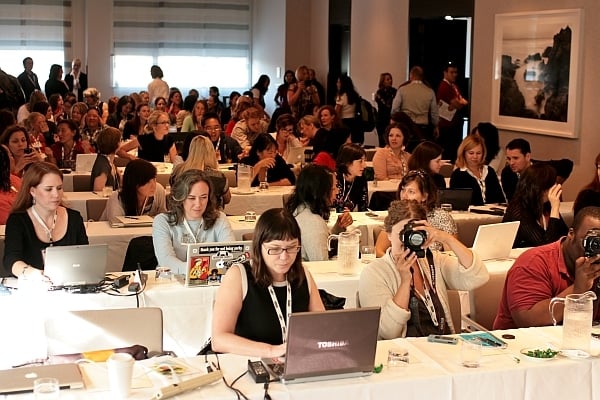 First visual track session with Matt and Heidi.

This is pretty much what a session would look like: computers, iphones, cameras, people, good people. Lots of them.


Made it to breakfast slightly refreshed and stunned. No, no seriously: it is stunning to see words and people behind emails and computer screens becoming alive before your eyes. I am thrilled I got to meet many people and regret that I did not meet all of them. Between preparing for my panel and dealing with work and family stuff via computer, my brain was in overload and overwhelmed at times. Finally met bloggers who have inspired me to start mine and this was extremely special to me. Beside all the people mentioned in this post, thank you Sam, Pim, Jen, Anita, Tea,
Where there is love you will find Shauna and Lu.


I had many "fuzzies" during this trip (moments when your heart gets all warm and tingly you're so happy) and one of them was definitely meeting Shauna, Danny and Lucy. Shauna was one of my first blog reads and growing closer this past year made it all the more special to finally talk in real life. Lucy was the name I wanted to give my daughter but that did not happen as planned and I feel like this little one is my remote gift from life. I was very fortunate to spend more time with them after the conference.
Lisa Stone from BlogHer, Ree from The Pioneer Woman, David Lebovitz, Elise from Simply Recipes.


After a whole day of sessions, brainstorming and powerful messages (you can check transcripts of the sessions on BlogHer.com), we all met up again for the closing keynotes. I could write paragraphs after paragraphs about photography, blogging, writing, food politics, etc… but one message that came through from these three successful speakers was to blog because you have a passion, the rest will follow. Or not. And that's ok. Blog what makes you happy and do it to the best of your abilities.
How did I do on my panel? I think it went well. Feedback from the people attending was good so I am happy. And yes, it is official: I am a passionate dork.
So by now, you have probably read the fiasco that was lunch when food bloggers were served frozen foods while badly pitched by a mockery of a chef. Yes, I felt insulted. But not so much as being pitched frosting in a can from one of the sponsors in the lobby. Poor choice of product for a majority of attendees cooking and baking from scratch. We want to be challenged both intellectually and physically not spewed out of can.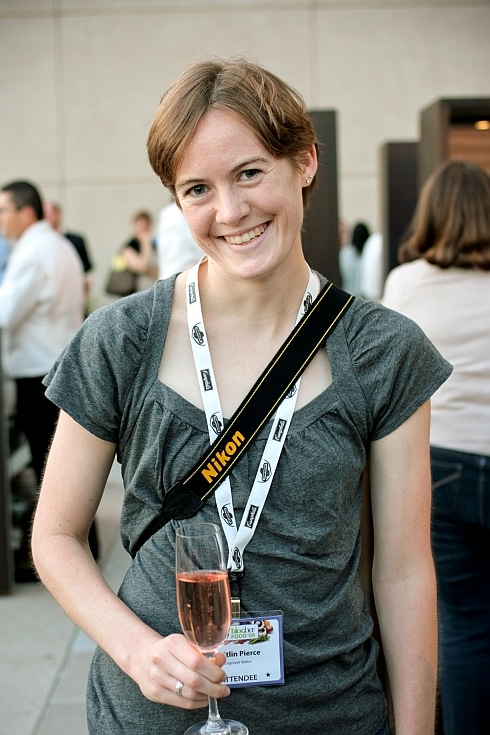 Caitlin from Engineer Baker.


The cocktail party after the sessions were over was held on the rooftop of the hotel in perfect weather and with alcohol flowing generously.
Zoe from Zoe Bakes.


One of my "fuzzies" of the conference was to meet Zoe, author of Zoe Bakes and Artisan Bread in 5 Minutes A Day. To say that the woman is hot is an understatement, to add that she is one genuinely cool lady is no exaggeration. I hope we get the chance to meet and talk many more times in the future.
After this first round of cocktails, we all headed to Tropisueno for the After BlogHer Party organized by Jaden, Ree and Elise. These women sure know how to throw a party! I had the chance to hang out with my pal Tammy from Running With Tweezers a bit more while being served glass after glass of Merlot by Hardy from Murphy Goode Wines.
I also got the chance to meet one of my baking crushes, Alice Medrich with whom I talked for a while on topics ranging from French markets and pastry chefs to blogging and writing. Precious moment.
Thanks to Emily from Foodzie I left the party with more chocolate and some really cool Nori salt. Thank you! Oh and a bottle of Pomegranate liqueur from Pama, one of the party sponsors "magically" fell into my bag.
Sunday morning, Jen and I met Caitlin, Shauna, Danny and Lucy for coffee and after parting ways with them all we both headed out to meet Tammy, Todd and Diane for Dim Sum. Again, check Jen's pictures for that part. I was too busy eating! After saying our goodbyes, Jen and I went about town to check out more bakeries.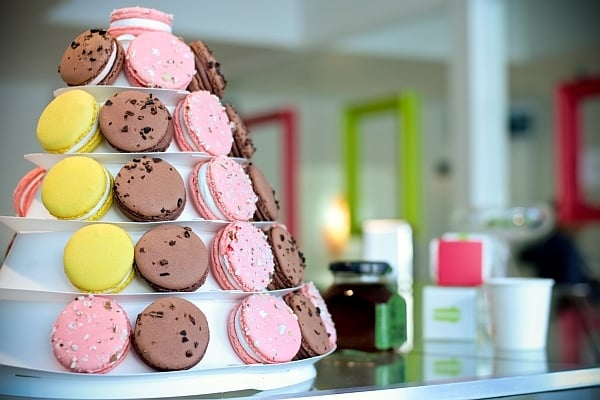 Paulette Macarons.


I really wanted to check out Paulette's macarons and store. It is my grandmother's name after all and I had heard so many good reviews (after all there is Michalak stamp on it) that I had to sample a few. Geez…Perfect. All of them.
So many great flavors to chose from!
Miette's "headquarters" in Hayes Valley.


Miette's main store is as adorable as you can imagine. I was really like a kid in a candy store since they store a lot of the candies I grew up with. Heaven.
Tess from Miette.


Got the chance to meet Tess who writes and updates Miette's blog. Being a sucker for design and props, I must give Tess and her team an A+ in their arranging the store to make it look so perfect.
At Miette.


We were running out of time before Jen's plane and decided to skip Tartine and part ways. That was tough. Parting ways, not Tartine, doh…
I headed back to the hotel to pick up my bags and headed out to Cameron's and Anita's from Married With Dinner, with whom I stayed until Tuesday. After many years of chatting online, Christmas card exchanges and others, it was a bit surreal to just hang out at their house and leisurely prepare a feast of market fresh produce for dinner.
Homegrown salad and market mushrooms.


Sausages, salad, veggies of all kinds. Anita had scored a bunch of great plums at the Marin market earlier that day and I made us a plum crisp with green coriander seeds and lemon verbana as well as a tropical inspired granita.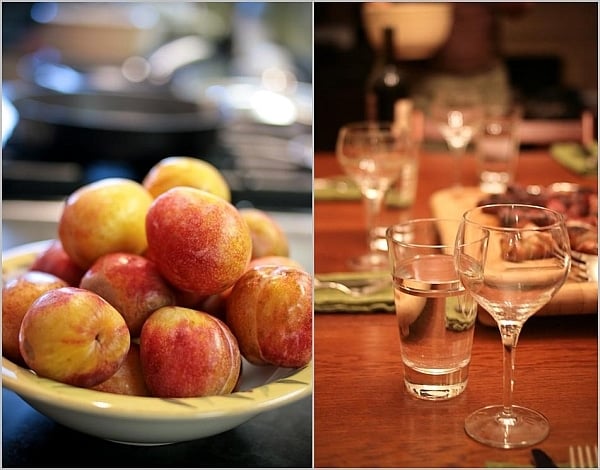 Dinner with friends.


Cooked and ate with some wonderful people that I was thrilled to finally meet. Kick ass Laura from (Not So) Urban Hennery and fiesty sweet Kristina from Tennessee Locavore, and of course Cameron, Anita and Jen M.
I went to bed with my head filled and my heart bursting. Still.
I have a couple more posts to come about my stay after BlogHer. A trip to Napa, more bakeries, an amazing tapas dinner at Contigo and more. In the meantime, I am leaving you with a picture of sweet Lucy eating her first macaron at Bouchon bakery. I could photograph this child all day long…and I did!
The way to eat a macaron, by Lucy.