Berry Pavlovas: Crunchy Colorful Sweet Birthday Bites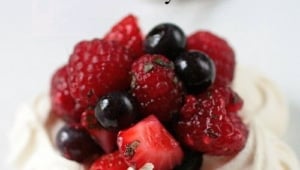 Today is B's birthday and while in the middle of cleaning the house, preparing a little get together for him and speed training a puppy, I realised that I always wish my parents a happy birthday or mother's day, father's day, etc…on this blog but I rarely wish B. a happy birthday. Without wanting to make a big deal about it, I think he is a big deal, but a crunchy, colorful and sweet one.
He is very instrumental to my being here doing the things I do and sharing things with you. He happily ventures his spoon in dishes and desserts I set out in front of him. He knows to always take his cell phone with him while running an errand for me at the grocery store. He has quickly come up with associations to remember who is so and so that I keep talking about, and stopped asking me if I have the hiccups when I giggle at the screen chatting online at night. He looks forward to other bloggers' visits as he has an excuse to use all the attachments on the vacuum cleaner (he is so going to yell at me for telling you this!). But more importantly he has more than accepted my bizarre schedule as of late and for that he deserves extra kudos and a public "I Love You – You Rock – Happy Birthday!"
There will be cake for him and a few guests for dinner tonight but this morning he will have some pavlovas filled with fresh blueberries, raspberries and strawberries. Boy do I love summer lately! I can't get enough of the gorgeous fruits at the market lately and berries have been either my breakfast or my lunch a couple lots of times this week . I can't say he chose to have this has a birthday breakfast but it's been a juggling of egg yolks and egg whites lately in the fridge and some room had to be made. Knowing him, I know he'll have more than one!
I made the shells when Chris was here and kept them in an airtight container at room temperature so they would still be crunchy today. There were just a touch softer in the middle but with the heat and humidity of South Carolina, that was to be expected. To fix that, I turned the oven on to 350F last night before going to bed, put the meringue shells in it and turned the oven off. It helps give them some of that crisp back so I can still hear him say "so-crunch-what is-crunch-for dinner-crunch-tonight- crunch crunch ?"…I love that sound!
Pavlovas With Fresh Berries:
Makes 8-12 shells depending on size
3 egg whites
3/4 cup sugar
1 1/2 tsp cornstarch
Preheat oven to 275F. In small bowl, mix the sugar and corn starch together and set aside. In a stand mixer fitted with the balloon whisk, start whipping the egg whites to soft peaks. Start with the machine on low speed to break them a bit and get them "shaking" then increase to speed to medium high. Slowly add the sugar mixture in a slow steady stream, or one tablespoon at a time. At this point you can either spoon the meringue, making 12 circles on 2 parchment paper lined baking sheets or fill a pastry bag fitted with a star tip and pipe the shells onto them. Bake at 275 for 30 minutes and reduce your oven to 250F and continue baking them for another 30 minutes.
For the berries: I did not measure how much of each berry I was mixing in, I went with a couple of handfull of each, sprinkled some sugar on top and chopped fresh mint and let it macerate for a couple of hours.