How to Make Banana Bread: 5 Tips & 4 Mistakes + Recipe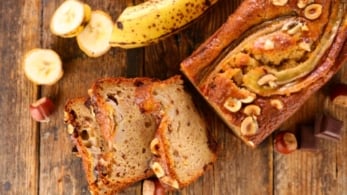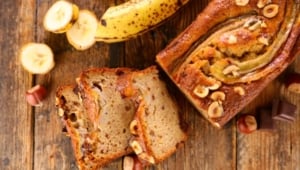 Banana bread is a popular snack for between meals. In this article, you'll learn how you can easily make the dish at home. Moreover, you will find tips for proper preparation. In addition, we explain the most common mistakes in baking and show you delicious and healthy banana bread recipes and tips on making variations.
The name of banana bread is somewhat misleading, because it is not bread, but cake. It has some healthier advantages over chocolate, cookies and other snacks, if you follow our tips when preparing it.
Facts about Banana Bread
Banana bread is actually a cake made of bananas, flour and other ingredients.
The baked good is very popular especially in Australia and the USA.
The date of origin for banana bread has not been precisely determined. It is thought that the banana cake was invented at the end of the 18th century; at that time potash was used as a leavening agent, which helps date the origin of early known recipes. In addition, bananas were not available on the market in larger quantities until the colonies expanded around 1880. Prior to that, bananas could not be adequately refrigerated due to poor storage and transportation facilities.
Banana bread was not mentioned in the first printed cookbook in the USA. The earliest printed recipe for banana bread dates from 1933. Over the years, people introduced many variations of the cake as well as ready-made baking mixes.
Depending on the recipe, the main ingredients for banana bread consist of wheat flour, chopped bananas, butter, baking powder, sugar, milk, and eggs. Alternatively, you can use soy milk or tofu, making the cake suitable for a vegan diet.
To make banana bread, people often use a loaf pan and serve it in slices.
Health Benefits of Banana Bread
Banana Bread, unlike many other cakes, has some health benefits.
Because of this, it has especially in recent years, become a convenient and popular alternative to satisfy the need for something sweet.
For example, if you play a sport that requires high endurance, banana bread can serve you as an energy source. This is due to the high content of carbohydrates.
Even apart from that, banana bread is a good alternative for other sweet snacks, because it doesn't need much flour or sugar. So if you want to treat yourself to something sweet in between meals during your diet, banana bread is the ideal snack for you.
Nutritional Values of Banana Bread
Banana bread is rich in sodium, which is necessary for life. However, sodium can be found in almost all foods and a deficiency of sodium is rather uncommon.
Due to its high water-binding capacity, it is important for the regulation of water balance in the human body, among other things.
Likewise, potassium is present in higher amounts in banana bread. Potassium is a mineral that contributes to the normal functioning of nerves, muscles, and cells.
It is also one of the electrolytes, which are important for the distribution of fluids in your body.
If you suffer from a potassium deficiency, you will notice it due to symptoms such as dizziness, headaches, or even gastric distress. Water retention as well as tingling in the limbs are also indications of a potassium deficiency.
In the following table, we have listed the nutritional values of banana bread according to a simple recipe.
| Nutritional values | Nutrients per 100 gram |
| --- | --- |
| Carbohydrates | 55 g |
| Protein | 4,3 g |
| Fat | 11 g |
| Natrium | 302 mg |
| Fibre | 1,1 g |
| Cholesterol | 43 mg |
| Vitamin C | 1,7 mg |
| Calcium | 21 mg |
| Iron | 1,4 mg |
| Magnesium | 14 mg |
| Potassium | 134 mg |
Simply Make Your Own Banana Bread
Banana bread is a really simple dish to prepare. It will not take long to make banana bread with a basic recipe. However, if you want to add some fancy extra ingredients or toppings, that's possible as well.
But you will first learn in this section, how to easily make your own banana bread, as well as muffins from scratch, whether you want to keep it simple, gluten-free, or vegan.
The Best Easy Recipe for Moist Banana Bread
If you want to bake banana bread yourself, we have a simple recipe for you below. You will only need about 20 minutes to prepare it.
To make banana bread, you will need the following ingredients:
3 ripe bananas
80 milliliters (5 Tablespoons + 1 1/4 teaspoons) of sunflower oil
2 eggs
110 grams (1/2 cup) of brown sugar
200 grams (1 2/3 cups) of all-purpose flour
a pinch of salt
a pinch of cinnamon
3 teaspoons baking powder
1 vanilla pod
100 milliliters (nearly half a cup) of milk (optional)
Butter or margarine to brush the bread pan
First, you can preheat the oven to 350 degrees Fahrenheit and grease the loaf pan with the butter or margarine. In a bowl, mash the three bananas with a fork.
Then carve the vanilla pod lengthwise with a knife and scrape it out. Whisk the sunflower oil together with the eggs and brown sugar.
Now mix the flour, baking powder, cinnamon, salt and vanilla bean and stir them into the mixture of eggs, sugar and oil. Then stir in the mashed bananas and pour the mixture into the pre-greased pan.
Bake the banana bread in the preheated oven for about 55 minutes. After baking, let the cake chill before removing it from the pan.
Garnish the banana bread with dates, raisins or nuts. Walnut pieces especially add an unusual, but delicious touch to your banana bread recipe.
The recipe yields a total of about ten slices.
How to Make Gluten-free Banana Bread
If you have an intolerance to gluten and want to bake you own banana bread as well, you can just use gluten-free flour instead of all-purpose flour.
How to Make Vegan Banana Bread
It is also possible to make banana bread without eggs and milk.
If you want to bake a vegan version of banana bread, you can simply replace the eggs with banana puree. Moreover, you can also use mashed bananas for other cakes any time you run out of your usual egg substitute.
How to Make Banana Bread Muffins
If you love the taste of banana bread, but prefer the smaller rounder shape of muffins, we have good news for you: You can easily use our recipe for banana bread for muffins as well!
The only thing you have to change while baking is the baking temperature and -time.
As in banana bread recipe above, you will bake your muffins in the oven at a temperature of 350 degrees Fahrenheit, but in this case, only for about 20 minutes.
Additionally, the tricky thing about the oven temperature is that you first have to preheat the oven up to 400 and once you put your banana bread muffins in, you should immediately reduce the temperature to 350 degrees.
Tips for Homemade Banana Bread
There are some things you have to keep in mind while making your own banana bread.
To make sure that your "banana cake" is a success, we have collected some tips on how to make homemade banana bread in this chapter.
Our tips will help you to bake the best and most healthy banana bread on your own.
Use Ripe Bananas for Juicy Banana Bread
The riper the bananas are, the better the bread tastes. This is because riper bananas have a juicier, more flavorful quality.
In addition, they give an overall sweeter taste to the banana bread.
During the ripening process, the starch inside the banana is converted into sugar. Therefore, bananas with brown spots are more suitable for baking than yellow ones due to their sweet and intense flavor.
Bananas that already have a mushy consistency are perfect for baking. This makes banana bread ideal for using up leftovers.
If you don't have ripe bananas on hand, you can ripen fresh bananas in the oven at 300 degrees Fahrenheit for 20 to 30 minutes.
To do this, place the bananas on a baking tray with parchment paper and wait until the peels have turned black. The fruit will be soft and mushy. Let them cool down a bit and use them as described in the recipe.
Take Appropriate Flour Depending on the Desired Consistency
Basically, you can almost use any type of flour for baking. However, pay attention to the respective properties of the flour.
For example, you can bake banana bread with whole wheat flour, but if you do so, the batter will need more liquid.
Your easiest and cheapest option is all-purpose flour.
But if you want to bake high-quality banana bread with the perfect consistency we recommend cake flour to you. If you have choosen cake flour, you need to use a little more. As a rule you can keep in mind to always use two teaspoons more per loaf than with all-purpose flour.
If you have several different types of flour on hand, you can also mix them as desired.
But there is one flour type that you should not use. Even if the name suggests otherwise, it is not a good idea to use bread flour. If you do so, your banana bread will probably turn out too dense. After all, banana bread is a quick bread, which should be more fluffy and moist than conventional yeast-risen bread.
Always keep in mind: the darker flour makes the cake less fluffy and somewhat more compact.
Butter or Oil as You like
In principle, you can use whatever fat you prefer for baking. Both fats have different affects on the taste as well as the consistency of the cake. Oil will make your banana bread fluffier, while butter makes it juicier.
You are on the safe side if you use a neutral oil, like for example Safflower oil, which is the most flavorless.
If you like the taste of coconut, you can also use coconut oil for baking banana bread. By using coconut oil you will make your banana bread taste more fancy and special. Look for the organic seal on coconut oil if possible.
Sweeten your Banana Bread (even without Sugar)
If you bake the cake with sugar, you will achieve different flavors depending on the type of sugar and the amount.
Sugar not only contributes to the sweetness, but also to the volume of the cake.
However, you can actually prepare the cake without sugar, since an extra leavening agent is used for baking anyway. Instead of sugar, you can also substitute maple syrup or honey.
Dried fruits such as dates or apricots are also a good addition to banana bread recipes to give the banana bread an extra sweetness. To add fruits to your bread, simply chop the dried fruit and fold it into the batter.
How to Store Banana Bread Properly so that it Lasts a Long Time
If you store your banana bread in one piece in the refrigerator, it will stay fresh for up to a week and the moisture of the bread will be retained. For short term storage, a cool, dark place is recommended for keeping the moist texture of the bread.
The reheated banana bread tastes like freshly baked when you warm the slices in the oven or toaster before eating.
If the cake has cooled down completely after baking, you can also freeze it. This should be done the day you baked it, the day after baking, or at the latest the day after that.
To do this, it is best to cut the banana bread into slices and store them in airtight freezer bags or containers. The cake can then be thawed out again at room temperature.
Common Mistakes in the Preparation of Banana Bread
If you like to prepare the cake to eat in place of other sweets or candy, here are some mistakes to avoid during preparation.
Otherwise, the cake can quickly become an unhealthy calorie bomb. We have compiled the most common mistakes in the preparation of banana bread for you below.
The Serving is too Big
If you want to save calories, you should be careful not to bake too much of the quick bread. The smaller the pan, the less of the cake you eat and therefore fewer calories.
Alternatively, you can also put the batter into muffin tins. If you then freeze the individual portions, there is no danger of eating the whole banana bread immediately.
The Banana Bread is too Moist and Collapses
If you have processed too large a quantity of bananas, the cake could collapse. This is due to too the moist and heavy components in the batter.
It is better to follow the recipe exactly. By following the recipe, you avoid the bread having a consistency that is too loose and crumbly.
The Consistency is Soggy
If you wonder why your banana bread seems kind of squishy, it's probably because of the consistency of the bananas.
In principle, this is not a mistake and is less unusual than you might think.
The riper the bananas, the more likely you are to mash them with a fork rather than carefully chop them.
However, if you want to avoid the squishiness in the future, you can try to not mash or chop the bananas too finely. In fact, if you leave them in slightly larger chunks, the batter may rise more evenly.
You Top the Banana Bread with Sweets or Candy
Especially if you're looking for a healthier alternative to chocolate and other confections, you shouldn't add chocolate drops or anything similar to the batter.
Due to the high sugar content and the number of calories, the sweet topping will not have a positive effect on your desired figure, or on your metabolism.
Healthy Bananas Bread Options and Recipe Ideas
While you can enjoy your banana bread plain, you can also combine it with other ingredients. There are many ways to pair your homemade banana bread with healthy ingredients or toppings such as fresh fruits, raisins, oatmeal or walnuts and benefit from the healthy affects of all the delicious ingredients.
In the next section, we have collected ideas on how to spice up your banana bread.
Banana Bread with Walnuts and Oatmeal
You can achieve a particularly nutty flavor if you also use nuts in the baking process. For example, walnuts are very suitable for this purpose.
Walnuts also help your body by contributing healthy fats. In addition, you prevent some diseases such as diabetes and cardiovascular diseases by regularly eating nuts.
Likewise, oatmeal mixes into the batter very well. The low-gluten whole grain product is a real superfood and probably the healthiest type of grain. They provide more energy as well as beautiful skin and strong nerves.
With Fresh Fruit like Cherries or Blueberries
A classic addition to bananas are fresh cherries. You can add the cherries as a topping on the banana bread or mix them into the batter.
Another delicious variation is banana bread with fresh blueberries. You can also mix the berries into the batter, which makes it especially moist.
Alternatively, small pieces of pears or apples are a great addition to the batter. This gives an additional sweet note to your bread.
However, this also delays the baking time because liquid is released throughout the baking process. Therefore, you should expect a slightly longer preparation time here.
Banana Bread with Chocolate Chips
If you want to go a little higher in calories, a topping of liquid chocolate or drops goes very well with this moist quick bread.
Just like with the fruit, you can also stir the chocolate into the batter.
However, don't forget that chocolate makes banana Bread no longer a healthy alternative to other snacks.
If you want to eat healthily and lose weight, this type of banana bread is somewhat less suitable for your diet.
Banana Bread for a Keto-Diet with Almond Flour and Proteins
If you are following a low-carb diet and are looking for a tasty alternative to traditional recipes, you can bake banana bread without flour and sugar.
Instead, you can use 50 grams (1/2 cup) of defatted almond flour, 120 grams (1 1/4 cups) of ground almonds and three medium eggs. You can stir an additional 60 grams (1/2 cup) of sweetened or neutral protein powder into the batter. If you decide to use unsweetened powder, you can sweeten the batter with some xylitol.
If you prepare the banana bread without sugar, the natural sweetness of bananas makes it suitable for feeding to babies and children. Also, use whole wheat flour for this rather than other types.