Bakewell Tart: Did Grandma know?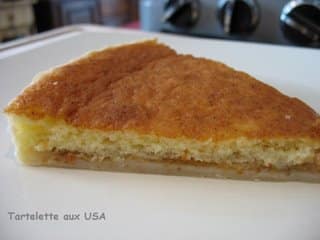 When I was growing up my grandmother used to make this tart with a very nice shortbread crust, jam at the bottom and covered with a nice cream sometimes flavored with almonds, sometimes not. The other day I was perousing the various foodie events for June and the words Bakewell Tart made me raise an eyelid: what was that? A tart I did not know existed? There I was checking Andrew's site to get more details about it and decided to go online and try to find a recipe.
Dang! It was my grandma's tart! or should I say Grandma borrowed it from the English?! I love this tart but I never really saw her follow a recipe nor did she leave me with one. After looking at about 5 or 6 recipes online I kind of understood that even without the exact same ingredient amounts the concept of the bakewell Tart is the same: a shortbread crust, a layer of jam and an almond flavored cream. I used the one found here but modified it like so: I doubled the amount for the filling part, added a good handful of toasted and ground almonds and used homemade nectarine and rhubarb jam instead of a berry one, most commonly found in the Bakewell Tart.
Bakewell Tart (includes modifications)from The Green Chronicle
Ingredients:
Pastry :
2 cups plain flour
4 level tablespoons shortening
4 level tablespoons butter or margarine
pinch of salt
cold water
Method- Sift the flour and salt into a large mixing bowl.- Add the lard and the butter and chop it up roughly with a knife.- With cool fingertips, rub the fat into the flour until the mixture resembles breadcrumbs.- Add 2 tablespoons of cold water and then, using a knife, mix lightly into a dough.- Add a little more water if necessary but be careful not to add too much.- The dough should not be sticky.- Gently bring the dough into a ball by hand, gathering up any stray bits of dough.- Leave to rest in the fridge for a couple of hours before using.- To use, roll lightly with a rolling pin on a lightly floured surface.
The Tart:
1/2 cup jam
1/4 cup flour
1/2 cup butter
1/4 cup caster/superfine sugar
2 teaspoons baking powder
2 eggs
a good handful of ground almonds
Method- Line an ovenproof dish with the rolled out pastry.- Spread some strawberry jam on the pastry base.- Cream the sugar and butter together.- Add the egg, flour and baking powder, beating until smooth.- Beat in the essence.- Pour the mixture into the pastry case over the jam and bake in a hot oven until the pastry is cooked and the filling is firm to the touch.
It's really good, very easy to put together and most pleasing to everybody, great for all season if you want my opinion.
Note: I now it looks like the bottom crust is not cooked through and you would be right but there is a reason for it: the Cookie Monster likes his pie crust like his cookie dough: undercooked…yikes! I usually finish baking my slice separately.