Baked Doughnuts…Baked Goodness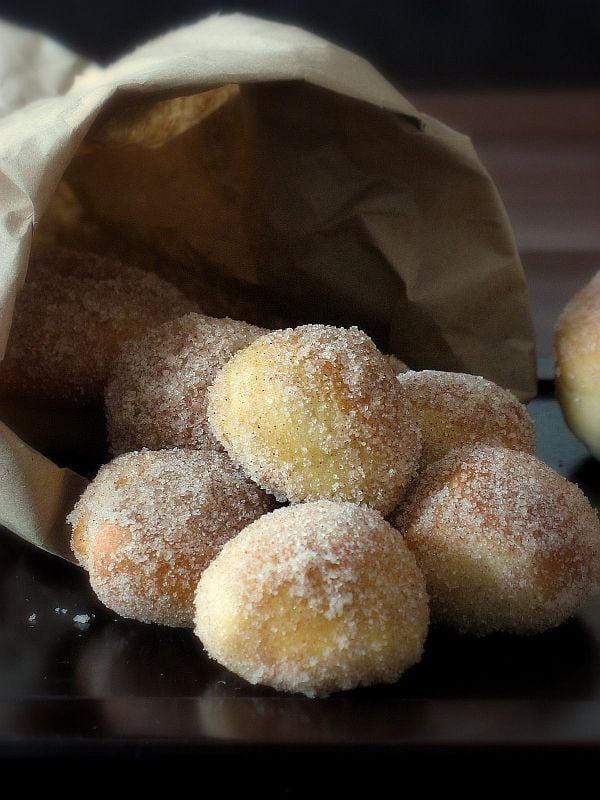 I know, it seems very strange to put "baked" and "doughnuts" in the same sentence and then expect you to believe me when I say they were good…but they were! But why would I turn a completely good fried piece of Americana into a baked good? Well, for once I was curious to try another recipe after my first success last year. I also have the same reason as last year for trying baked doughnuts yet again. My parents are coming to visit for a while and they love waking up to the scent of nutmeg, cardamom, and cinnamon….and my dad can't resist the attraction of a good doughnut. However, they both have health issues that I have to take ito consideration when baking and cooking (heart and diabetes). Thus, the reason why I wanted to make a healthier version, and made this other version as a test run.
Looking online you will find dozens of recipes for baked doughnuts but how would you know if they are any good? Well, first you can always send me an email and I will force myslef to help you out and make a few batches, just to be on the safe side. On a more serious note, among all the interesting recipes I found online, I recognized two bloggers I had already followed in marbled chocolate cake goodness so I felt confident they would not stir me in a bad direction. One thing neither of us will tell you is that they "are exactly like doughnuts". The obvious reason being that they are not frying involved and like my predecessors I went for the cinnamon sugar topping instead of a powdered sugar glaze….sounded lighter. The resulting treats were not as soft and buttery to the mouth as the ones you get at Krispy Kreme for example but they make a good substitute when the craving hits. They are a tad chewier and more like soft pillows of dough but they were quickly devoured by our guests sunday morning, which is always a good sign.
Baked Doughnuts, adapted from this recipe:
1 1/3 cups warm milk, 95 to 105 degrees (divided)
1 packet active dry yeast (2 1/4 teaspoons)
2 tablespoons butter
2/3 cup sugar
2 eggs
5 cups all-purpose flour
A pinch or two of nutmeg, freshly grated
1 teaspoon salt
1/2 cup unsalted butter, melted
1 1/2 cups sugar
1 tablespoon cinnamon
Place 1/3 cup of the warm milk in the bowl of an electric mixer. Stir in the yeast and sugar and set aside for five minutes or so to let it proof. Stir the butter into the remaining cup of warm milk and add it to the yeast mixture. With a fork, stir in the eggs, flour, nutmeg, and salt – just until the flour is incorporated. With the dough hook attachment of your mixer beat the dough for a few minutes at medium speed. Adjust the dough texture by adding flour a few tablepsoons at a time or more milk. You want the dough to pull away from the sides of the mixing bowl and eventually become supple and smooth. Turn it out onto a floured counter-top, knead a few times (the dough should be barely sticky), and shape into a ball.
Transfer the dough to a buttered (or oiled) bowl, cover, put in a warm place, and let rise for an hour or until the dough has roughly doubled in size.
Punch down the dough and roll it out 1/2-inch thick on your floured countertop. With a 2-3 inch cookie cutter, stamp out circles in the dough . Transfer the circles to a parchment-lined baking sheet and stamp out the smaller inner circles using a smaller cutter. If you cut the inner holes out any earlier, they become distorted when you attempt to move them. Cover with a clean cloth and let rise for another 45 minutes.
Bake in a 375 degree oven until the bottoms are just golden, 8 to 10 minutes – start checking around 8. While the doughnuts are baking, place the butter in a medium bowl. Place the sugar and cinnamon in a separate bowl.
Remove the doughnuts from the oven and let cool for just a minute or two. Dip each one in the melted butter and a quick toss in the sugar bowl. Eat immediately if not sooner.
Makes 1 1/2 – 2 dozen medium doughnuts.
Notes:
– as Heidi suggests, it is best to do them the day you plan on eating them and not too early.
– remove them from the oven before you think they are done, they will continue to bake a little.
– make sure the holes in the middle are cut out pretty big as the donuts contine to rise as they bake and tend to swallow them back.
– you can make your dough, roll and cut out the donuts the night before and let them do their second rising in the fridge, covered. Set them out on the countertop an hour before baking so the yeast can wake up again….and you by the same time.
P.S: Last month I woke up to an early Christmas present: a nice lady named Tammy Wood emailed me with a beautiful collage of my pictures as a banner/header for my blog. She took pity on my attempts at spiffying the blog and "just made it one night"….Turns out she had come here via a common acquaintance, Aimee from Under The High Chair. I was beaming, fidgeting, amazed at her generosity. She is a professional who took the time to help me out, just because….! I quickly put it up and after much internal debate on my part I asked her if it were possible to change the pics to some of my favorites, which she promptly did upon her return from vacation. So peeps, look up, the images are different….I like both but this one is my favorite. Thank you Tammy…It is with people like you that humanity still goes round.