Ashley's Chocolate Banana Pound Cake or The Art of Adapting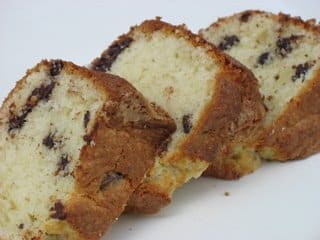 This cake is the perfect example of Ashley's recent post on adapting and changing recipes. I could come up with many reasons why I changed her recipe but here the few that come to my mind:
– I already know what chocolate and banana pound cake taste like, so combining the two is easy to imagine flavor wise.
– I know that since I don't have mascarpone on hand, I can substitute cream cheese without (purists cover your eyes) altering the recipe too much.
– Since I want to add 1/2 cup finely powdered dry coconut, I need to add a tad more liquid if the batter seems stiff, I chose to add 1/4 dark rum, to enhance to the tropical feeling.
It is easy for seasoned baker and cook to change recipes without messing up. Once you have mastered the different doughs and baking techniques of creaming, sifted, adding, alternating, the sky is the limit!
I think that every baker who wants to take it a step further should spend soe time acquiring the discipline and techniques necessary but after that: Have Fun!
Oh yeah: playing around with a recipe does not always produce success, but we all learn from our mistakes!
Here is her recipe and my changes in italics:
Banana Pound Cake
From Secrets of Baking; Sherry Yard
2 1/4 cups All Purpose Flour
1 Tbl Baking Powder
1 tsp. Baking Soda
1/4 tsp. salt
1/2 cup sour cream
1/2 cup mascarpone (I used cream cheese)
1 1/2 sticks butter, unsalted, softened
1/2 tsp. cinnamon
1 cup sugar
2 large eggs
2 fully ripe bananas, pureed
3/4 cup chocolate chunks
1/2 cup very finely shredded coconut
1/4 rum

Sift dries. Combine sour cream and mascarpone, set aside. Beat butter until soft and gradually add the sugar. It should be super light and fluffy. Add eggs one at a time. Alternate dry ingredients with sour cream and mascarpone mixture. Fold in bananas and chocolate chunks (or chips). Bake 350 for 1 hour to 1 1/2 hour until toothpick comes out clean.
The cake was delicious. It's like a drug, we keep having a slice at every meal. Sorry neighbors, seems like you won't taste this one!