Afternoon Snack, Grandma's Style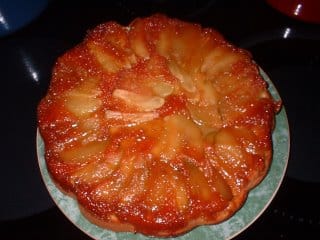 " The whole cake and nothing but the cake… "
Does not take much to make this girl happy…
My grandmother loved cooking with apples, in sweet and savory dishes. Her specialty or signature dessert was this apple pie made with a shortbread crust and covered with a homemade apple compote. Nothing fancy, nothing grand looking, but it tasted so good. I wanted to make something this afternoon that remimded of her. Around Easter I always get sentimental and miss everybody back home. Easter is big in our family, first because of the religious aspect, but also because of the connection we make each year around the dinner table, hunting our eggs and devoring our chocolate.
I found this recipe on www.fredkitchen.canalblog.com under the "pour le gouter" section (as soon as I find out how to do a hot link, you won't have to deal with all this…anybody care to help?) . Instead of making it with pears like she did, I chose Granny Smith apples, and it worked just fine. It was delicious warm with a scoop of creme fraiche but I just had another slice cold and it still just as good, a little easier to cut if anything.
You might want to call it Deep Dish Apple Tatin, flufflier, cramier but just as good in caramel and butter.
Gateau Tatin aux pommes
1 cup sugar
4 apples
100g butter
100g sugar
5 eggs
1/2 tsp. salt
150 g creme fraiche or sour cream
270g flour
tsp. baking powder
With the cup of sugar, make a cramel: put in a pot on stove with a little water and let cook until golden brown. Pour the caramel into a 9 inch cake pan and reserve.
Peel, core and slice the apples. Put them in a nice pattern in the bottom of the pan, reserve.
In bowl of an electric mixer, cream the butter and sugar. Add the eggs, one at a time, until well incorporated. Add the flour and baking powder, then the sour cream.
Pour over the apples and bake at 350 for about 30 minutes or until knife inserted in center comes out clear.