Adapting Herme's Sensation Satine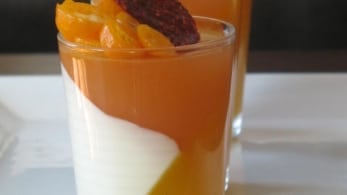 My mother is a very playful woman, always up for a joke a prank or a trick, not a bad student in her younger days but definetely the one I would describe to a salesperson when I'd be lost in a department store as the "short woman laughing". So when she arrived from France on Monday for a mini vacation without my father, I wanted to accomodate her playful nature. I put one of these "verrines" (can be translated as dessert in a glass) in front of her that evening and waited for her reaction. I was not waiting for a "wow" but for a giggle and this is exactly what I got! She looked at it, picked it up, turned it around and then said like a kid who just found a Rubix cube "Come on! Tell me, tell me…!" Well, mom it's really not complicated and I owe it all to Pierre Herme, the mad pastry scientist/creator we all worship! I had originally worked on it for a tasting for an event that never happened so I had three of them left for us.
You probably know by now that every Sunday I tutor Veronica in French and that we start and end our sessions by talking pastries and desserts. We always talk about Herme, and we often end up emailing each other about pastry suppliers, books, discoveries and others. One afternoon I was reading emails when Herme's newsletter came through and within 10 seconds I was forwarding it to Veronica with a simple "I am So making THIS during the week!" I had not even looked at the ingredients yet, I just loved the play on the layer.
In the newsletter, there was a link to the recipe and I thought "And he is generous…I love that!" I read it, I liked it but I found the actual making a little bit tedious due to the ingredients. His original version contains a bottom layer of orange marmelade then a layer of yogurt panna cotta and the top layer is passion fruit gelee. I thought that orange marmelade would be cloyingly sweet and although I found passion fruits at the store, they were $1.99 a piece…and I needed 20 if I were to follow his recipe. Ah yes, the man is generous but he is not sponsoring my site…so I had to change course and come up with my own Sensation Satine, keeping the fun look of the different layers.
Think about an upscale jello that is a cinch to make. I am sure that if Herme knew what jello was, he would kill me for the comparison but this is the closest I could get! There is not a whole lot of gelatin in each layer, just enough to old everything together and leave an extreme velvety texture to each bite…like satin. I went for grapefruit at the bottom, honey Greek yogurt in the middle, and mango lime for the top. To garnish I macerated kumquats in simple syrup overnight and the little extra is a raspberry chip on top. The chips are so easy to make that you are going to start using other fruits. Mangoes, bananas, strawberries, etc… They are addictive!
It was time to tell mom how Herme did it and how I shamelessly copied him! All you need is a few glasses and an empty egg carton…Yes! An egg carton! Everytime you layer an element, set it at an angle in one empty egg slot, refrigerate until set. Layer the other element and set this one on an opposite angle, the top layer goes flat. When I read it I thought "and there you have why he is among the Masters in the world…duh!!" And my mom to exclaim in her usual fashion: "How cool! Let's do it again!" I see her point, once you have the concept, the possibilities are endless! Granted the process takes a long time because of the setting periods of each layer but you can spread it over one cleaning and laundry day….or one lazy rainy afternoon.

Sensation Satine (concept adapted from The Sugar Daddy):
Makes 3 large servings (we split)
Mango Lime Gelee:
1 1/2 tsp gelatin
2 Tb water
1 cup mango nectar
1/4 cup sugar
zest and juice from 1 lime
Pour the water into a small container, sprinkle the gelatin over it and set aside. In small saucepan set over medium high, heat together the mango juice, the sugar and the zest and juice from the lime until the sugar is dissolved. Remove from the stove, add the gelatin and stir until it is completely melted. Let cool to room temperature. Divide evenly among the glasses and position them at an angle in the egg carton. Let set a couple of hours in the fridge.
Honey Yogurt Gelee:
1 1/2 tsp gelatin
2 Tb water
1 1/2 cup Greek yogurt
1/4 cup honey
Pour the water into a small container, sprinkle the gelatin over it and set aside. In a small bowl, heat half the yogurt in the microwave for one minute. Microwave the gelatin for 15 seconds. Quickly mix the two together, add the rest of the yogurt and the honey. No need to let it cool, layer it on top of the mango layer and position it at the opposite angle in the egg carton. Refrigerate for a couple of hours.
Grapefruit Gelee:
1 1/2 tsp gelatin
2 Tb water
1/4 cup sugar
1 cup grapefruit juice
Same exact process as the mango layer. Let it cool to room temperature before using. Remove the glasses from the egg carton and divide evenly on the top of each glass. Refrigerate for a couple of hours.
Macerated Kumquats:
1 cup water
1/2 cup sugar
3 cardamom pods, crushed
1 cup kumquats, sliced
In a large saucepan heat to boiling the water, sugar and 3 crushed cardamom pods. Remove from the heat, and let infuse for 30 minutes. Strain the syrup into a bowl to remove the cardamom and add the sliced kumquats, leave to macerate for couple of hours or overnight.
Raspberry chips:
1 cup fresh or frozen raspberries, (thawed and drained a little if you use frozen)
1/2 cup sugar
In a food processor puree the raspberries with the sugar until smooth. Line a baking sheet with parchement paper and with a spoon or a spatula, spoon small petals or chips.
Bake at 200F until dried and firm to the touch. They will firm up while cooling but get soft if refrigerated.
Last but not least: the winners from the Canneles drawing held this past weekend. I would like Megan from Megan's Cooking and Paula who signed "anonymous" to email me their snail mail address at marinette1ATcomcastDOTnet so I can get these puppies out to them. Congratulations!!