I moved to Birmingham at the tail end of the Pepper Place Farmers Market which filled me simultaneouly with great sadness to have missed much of its summer bounty and with great excitment about the upcoming Spring when it would be back in full swing. Within a five minute drive, I am there around 7am every Saturday I am in town. And then I hop to a couple more markets around town just to make sure I am not missing anything. It makes me feel connected to home and summers spent in the Alpes going to the market with my mom. I'd go stir crazy running from stand to stand. Berries, tomatoes, cantaloupe, honey, fresh cheeses, cherries, peaches, herbs galore.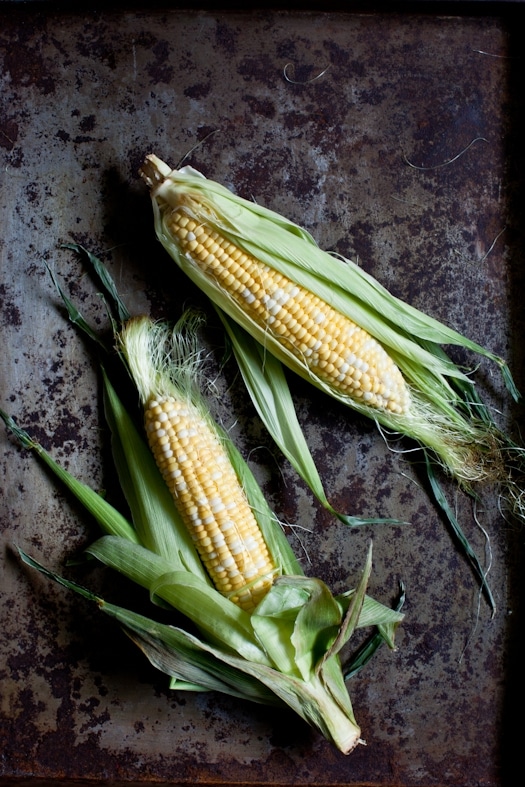 So yes, that's what I do on Saturdays. I take a virtual trip back home, even if just briefly with such early morning escapades. My panier (basket) in tow and lovely memories of squeezing my mom's hand with excitement upon each stand we would stop and visit. I grow even more nostalgic when I see my family's pictures on Facebook or other of all the fun shared during "les grandes vacances" (summer holidays) when they all gather at the family home. This ability to transport myself back to that place in my life grounds me into the present as much as it makes my heart sink I am not there with them.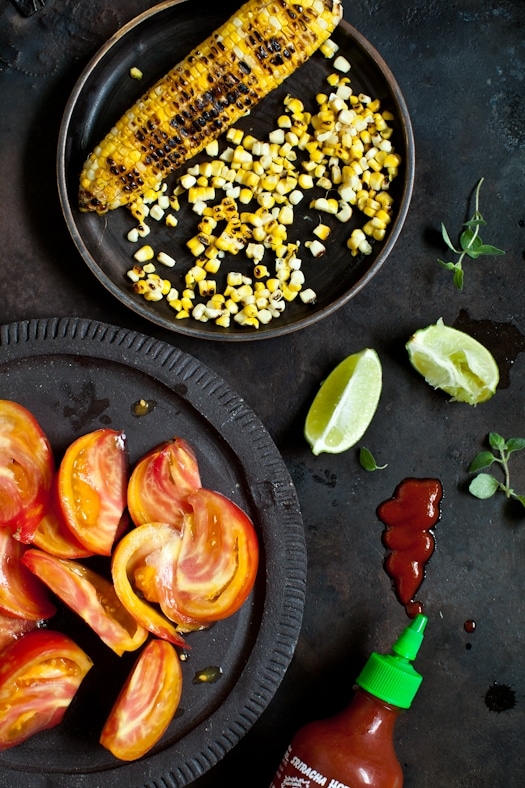 I love closing my eyes and reliving sounds and smells of my childhood. The cicadas by my bedroom window. Fresh cut cantaloupe with a dash of Port for the adults. Kebabs and veggies sizzling on the grill. Wildflowers and cool clear streams on our hikes in the morning. There isn't a closer place closer to summer vacation paradise. Many training wheel were cast aside there. Many nights spent sleeping "a la belle etoile" trying to catch a meteor shower.

I think that's my happy place. Lovely simple summer foods. Tomatoes and grilled corn. Marinated meat thrown on the grill. Fish cooked just so over hot coals. And the simplest of salads, burgers and drinks on a hot summer day.
Nothing like local ripe produce and tasty meats to make me feel in the throw of Summer, just as if I were back home. When the market stalls overflow with fresh corn, heirloom tomatoes and cucumbers, you can be sure that they end up in my basket in no time. I was thrilled to be able to get local lamb from one of our freelance food stylists, Ana, who operates Dayspring Dairy farm. The same lady who always comes to work with a few dozens eggs from her chickens and gifted me with sheep milk ricotta a few weeks ago. Dayspring Dairy's lamb is young, mild and very tender. A pleasure to create a meal around and share with friends for an impromptu dinner.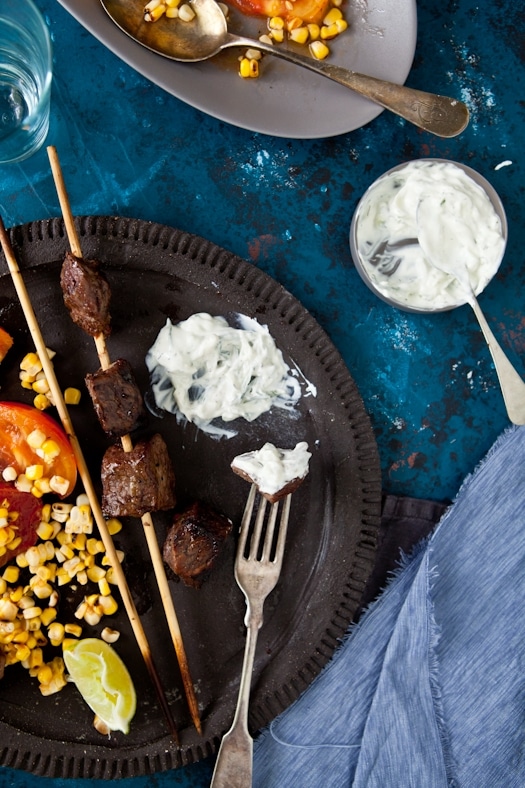 Big chunks of lamb shoulder were marinated in a flavorful concoction of cumin and chili, grilled just until medium rare and served with tzatziki and my new favorite tomato and grilled corn salad. Oh, yes… That salad has been made several times a week for the past month. I can't stop at a serving. Or two. Fresh corn, grilled with a dab of olive oil, big chunks of big juicy tomato and a Sriracha vinaigrette. Yes again. So good…I get *this* close to not sharing when I make it.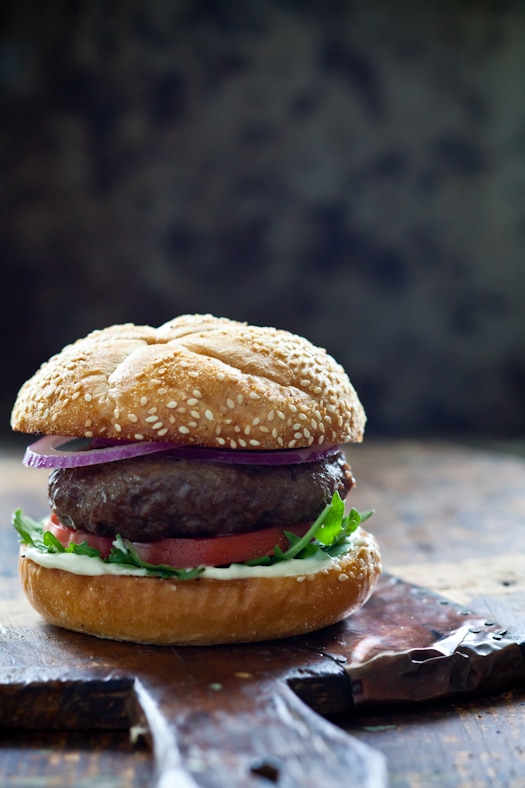 I rarely eat a burger just to eat a burger but, if you ask my closest friends, I do go all out when I decide to have them over for burger night. Loads and loads of different buns, sauces, garnishes, pickles, etc… However, when it comes down to my favorite way to eat a burger, I am pretty straightforward. Toasted bun, garlic aioli, a thick slice of ripe tomato, arugula and red onion. That's it. Makes me a whole lot of happy.
So here you go, I wanted to share a few favorites of the summer so far.
Hope you are enjoying time with friends and loved ones!